2018-19 Alaskan Arctic Cyclone Season
First storm formed
November 19 - Abrianna (second-latest start on record)
Last storm dissipated
Season ongoing
Strongest storm
TBD
Total polar depressions
12
Total polar storms
11
Polar cyclones
7
Major polar cyclones
4
Total fatalities
TBD
Total damage
TBD
The 2018-19 Alaskan arctic cyclone season will begin on October 1, 2018 and end on April 1, 2019. However, polar cyclone formation is possible at any time in the year. Due to an expected El Niño which flatlines the jet stream over the basin, which typically limits polar cyclone formation, this season is expected to be below-average in terms of activity.
Timeline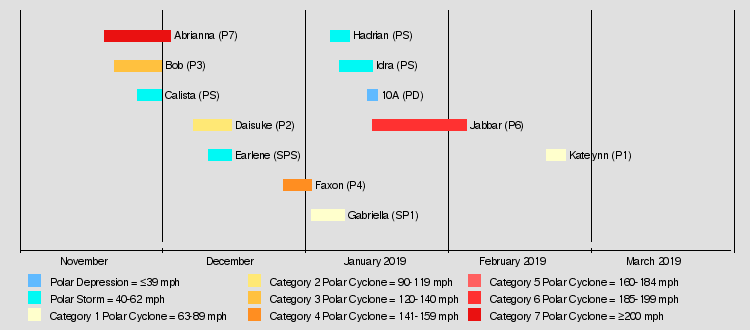 Seasonal Forecasts
Predictions of polar activity in the 2018-19 Alaskan Arctic Cyclone Season
Source
Date
Named
storms

Polar cyclones

Major
polar cyclones
Average

(1979-2016)

16.4
9.3
5.1
Record high activity
34
25
16
Record low activity
9
4
1
HTMC
June 28, 2018
13-18
7-11
3-6
BNMA
June 28, 2018
14-19
6-11
3-6
LHC
June 28, 2018
13-20
7-11
3-7
PWC
June 28, 2018
15-19
8-10
2-5
BNWC
June 28, 2018
14-19
8-12
4-7
GKWC
July 4, 2018
12-16
5-9
2-5
DHC
August 7, 2018
17-20
8-12
2-5
CSHC
August 7, 2018
15
6
2
SHC
August 7, 2018
14
6
3
RMA
August 7, 2018
15-19
6-10
2-4
BNWC
September 11, 2018
16-21
9-13
4-7
CDMC
September 11, 2018
17-20
9-12
4-8
WHC
October 9, 2018
16
5
3
––––––––––––––––––––––––––––––––––––––––––––––––––––––––
Actual activity

11
7
4
Storms
Polar Cyclone Abrianna
Category 7 polar cyclone (HTMC)
Duration
November 21 – December 1
Peak intensity
230 mph (370 km/h)
864 mbar (hPa)
Polar Cyclone Bob
Category 3 polar cyclone (HTMC)
Duration
November 21 – December 1
Peak intensity
125 mph (200 km/h)
947 mbar (hPa)
Polar Storm Calista
Polar storm (HTMC)
Duration
November 26 – December 1
Peak intensity
50 mph (80 km/h)
1001 mbar (hPa)
Polar Cyclone Daisuke
Category 2 polar cyclone (HTMC)
Duration
December 8 – December 16
Peak intensity
105 mph (170 km/h)
973 mbar (hPa)
Subpolar Storm Earlene
Subpolar storm (HTMC)
Duration
December 11 – December 16
Peak intensity
45 mph (70 km/h)
1003 mbar (hPa)
Polar Cyclone Faxon
Category 4 polar cyclone (HTMC)
Duration
December 27 – January 2
Peak intensity
140 mph (225 km/h)
936 mbar (hPa)
Subpolar Cyclone Gabriella
Category 1 subpolar cyclone (HTMC)
Duration
January 2 – January 9
Peak intensity
85 mph (135 km/h)
971 mbar (hPa)
Polar Storm Hadrian
Subpolar storm (HTMC)
Duration
January 6 – January 10
Peak intensity
40 mph (65 km/h)
1005 mbar (hPa)
Polar Storm Idra
Polar storm (HTMC)
Duration
January 8 – January 15
Peak intensity
50 mph (80 km/h)
1000 mbar (hPa)
Polar Depression 10A
Polar depression (HTMC)
Duration
January 14 – January 16
Peak intensity
30 mph (50 km/h)
1007 mbar (hPa)
Polar Cyclone Jabbar
Category 6 polar cyclone (HTMC)
Duration
January 15 – February 4
Peak intensity
200 mph (320 km/h)
869 mbar (hPa)
Polar Cyclone Katelynn
Category 1 polar cyclone (HTMC)
Duration
February 21 – February 25
Peak intensity
80 mph (130 km/h)
988 mbar (hPa)
Storm Names
Abrianna
Bob
Calista
Daisuke
Earlene
Faxon
Gabriella

Hadrian
Idra
Jabbar
Katelynn
Ladarius (unused)
Marcella (unused)
Nadim (unused)

Octavia (unused)
Paco (unused)
Rachael (unused)
Sadler (unused)
Tacita (unused)
Valentino (unused)
Wakana (unused)