The 2018 Atlantic Hurricane Season was an above average season, with a whopping 11 hurricanes, 8 of which were major storms. 9 storms made landfall in the United States, and a handful of others came close enough to cause damage. 563 fatalities occurred due to storms this season. Scientists have compared the 2018 season to the 2005 hurricane season, due to the abnormal amount of major hurricanes, and late end to the season.
(THIS PAGE IS STILL UNDER CONSTRUCTION BY Theweatherman561)
Timeline

Storms
Category 4 tropical cyclone (NHC)
Duration
July 1 – July 15
Peak intensity
250 km/h (155 mph) (1-min)  922 hPa (mbar)
Hurricane Andy
Andy was a Category 4 hurricane, which caused 23 deaths (all in the Dominican Republic).
On June 29th, the NHC was tracking an area of low pressure with a high likelihood of development. On July 1st, Tropical Depression 1L was officially classified as a tropical system, and by the 2nd, it had become Tropical Storm Andy. Only July 3rd, the storm impacted the Windward Islands, bringing heavy rain and strong winds of around 70 MPH. The system was expected to intensify soon, and the NHC put Puerto Rico under a Tropical Storm Watch. The storm intensified to a Category 1 on July 4th, and the following day, made landfall on the eastern half of Hispaniola (See image), with wind speeds of 85 MPH. Puerto Rico experienced scattered thunderstorms, but nothing major. In the Dominican Republic, 23 deaths were recorded, primarily due to drowning.
The storm plowed through the eastern Bahamas as it continued to strengthen, reaching Category 2 status by the 7th. On July 8th, the rapid intensification continued, and Andy jumped 2 categories, becoming a Category 4 hurricane, about 175 miles east of Melbourne, Florida.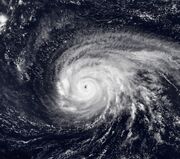 At this point, the NHC didn't give the storm a high threat to the United States, as it was expected to turn northeastward before any significant impacts were made. Sure enough, Andy began to move northeastward on July 10th, passing 150 miles southeast of Wilmington, NC. The storm remained a major hurricane before rapidly dissipating as it passed 40° latitude on July 12th. After that, things went downhill fast for Andy, which became a tropical storm again by the 14th, and disappeared completely by the 15th, over the Azores.
Category 3 tropical cyclone (NHC)
Duration
July 9 – July 22
Peak intensity
200 km/h (125 mph) (1-min)  955 hPa (mbar)
Hurricane Brennan
Brennan was a Category 3 major hurricane, which is significant for making landfall in New Jersey as a Category 2. This storm resulted in 32 casualties, 12 in Puerto Rico, and 20 in the United States.
On July 10th, the NHC identified an area of disturbed weather 1000 miles east of the Windward Islands, which became Tropical Depression 2L. Within 24 hours, due to the favorable environment, the storm became Tropical Storm Brennan. During its first few days, Brennan followed a very similar path to Andy, which had been in the area a week earlier. However, by July 13th, it had made a northwestern turn, and was now targeting Puerto Rico. The NHC issued a Hurricane Watch accordingly. Brennan initially hit the Leeward Islands as a Category 1, on July 15th. Most islands experienced strong winds, but rainfall was negligible, due to the fast movement of the storm. An anemometer in Basseterre (St Kitts and Nevis) measured a wind gust of 103 MPH.
Hurricane Warnings were now in effect for Puerto Rico, which braced itself, as Brennan clipped the northeastern edge of the island on the night of the 15th/16th. San Juan experienced widespread power outages and minor flooding as the eyewall of Brennan passed over the area. 12 deaths occurred in this area due to the storm.
With the islands behind it, Brennan began to shift northward, towards the United States. The NHC was unsure if it would go northeast, like Andy, its predecessor, or if it would hit the USA. On July 17th, Brennan became a Category 2. By the 19th, the storm didn't appear to be taking a turn any time soon, and Hurricane Watches were posted from North Carolina to New Jersey. The system became a Category 3 hurricane on the 20th, 200 miles southeast of Wilmington, NC.
By the night of the 20th/21st, Brennan was moving NNW towards the mid-Atlantic coast, and remained a major hurricane. The watches were upgraded to warnings, and the NHC advised all people living in the states of Delaware and New Jersey to evacuate, as the unusual winds and storm surge would cause major problems in those states. Luckily, Brennan was downgraded to a Category 2, 12 hours before landfall (See image). The storm continued to move very fast, and made landfall in New Jersey on the evening of July 21st, near the town of Elizabeth. The eyewall passed directly through New York City, causing massive impacts. The storm moved inland and became a tropical storm by 5 AM the next morning, near Albany, NY. The system completely deteriorated by late that night, over Montreal, Quebec. Severe flash flooding occurred throughout the states of Pennsylvania, New York, Vermont, and the providence of Quebec, due to the heavy rains brought by Brennan. 20 deaths occurred in the United States, primarily in inland New York, where residents were quite unprepared. Heavy damage was taken in New Jersey, but more action was taken, as Brennan was expected to landfall there.
Category 5 tropical cyclone (NHC)
Duration
August 4 – August 16
Peak intensity
265 km/h (165 mph) (1-min)  913 hPa (mbar)
Hurricane Cassidy
Hurricane Cassidy was the 3rd and strongest storm of the 2018 hurricane season, as well as the deadliest, with 139 fatalities. Cassidy was the strongest storm (in terms of wind speed) to impact the contiguous United States in almost 30 years, and made landfall in Texas with a similar intensity to that of 1992's Andrew.
On August 4th, a fast moving area of intense thunderstorms began to develop their own large scale rotation and low pressure, 100 miles east of Nassau, Bahamas. The NHC classified these organized thunderstorms as Tropical Depression 3L. Later that day, the storms became Tropical Storm Cassidy. The storm was moving west at a very rapid rate, and without much prior warning, hit the Bahamas around 2 AM on the morning of August 5th. Sustained wind speeds were around 50-60 MPH across most islands of the Bahamas. The storm was leaving the area by noon that day, around the time that the NHC issued Tropical Storm Warnings for southern Florida.
Cassidy became a Category 1 hurricane 75 miles southeast of Miami early on August 6th. By the evening, it was a Category 2. The hurricane made landfall in Key West, Florida, on August 7th, with winds of around 110 MPH. 2 deaths occurred in Florida due to Cassidy. The storm continued to move west, at around 15 MPH.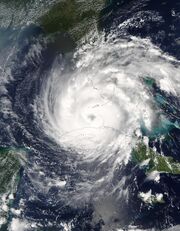 The system continued to intensify, as it was entering favorable conditions in the Gulf of Mexico. Cassidy was a Category 3 by the late on the 7th. Hurricane watches were issued for the central Texas coast, as Cassidy was poised to slam directly into that area. Around midnight on the 8th/9th, the hurricane was upgraded to a Category 4. Evacuation orders were placed in effect for southeast Texas, including the city of Corpus Christi.
The outer rainbands of Cassidy started to hit Texas on August 10th. With the storm's landfall a day away, the NHC stated that Cassidy could be one of the worst storms in Texas history. The storm made landfall at midnight (August 10th/11th) near Corpus Christi, as a borderline Category 5, with winds of 160 MPH. The NHC expected fast deterioration now that the storm had made landfall, but 6 hours after landfall, Cassidy had intensified some more, to sustained winds of 165 MPH. It took about a day for the storm to become a Cat. 4, and another 12 hours before Cassidy wasn't a major hurricane. By the 14th, Cassidy was a tropical storm over central Texas, and finally dissipated over Kansas on the 16th. Cassidy's remnants caused several tornadoes over Nebraska and Kansas on the afternoon of the 17th. The core infrastructure of Corpus Christi had been weakened, and it took months for the city to recover. 137 fatalities occurred in Texas, Oklahoma, and south Kansas, directly because of the storm. 13 people were killed by tornadoes created by the non-tropical remnants of Cassidy.
Category 3 tropical cyclone (NHC)
Duration
August 12 – August 23
Peak intensity
200 km/h (125 mph) (1-min)  953 hPa (mbar)
Hurricane Debby
Debby was the 4th hurricane of the 2018 Atlantic hurricane season. It is significant for making landfall in North Carolina as a major hurricane.
On August 12th, the NHC was tracking a newly organized area of thunderstorms, several hundred miles off the coast of French Guiana. The system (named 4L) was expected to strengthen very soon, as it was in a favorable area. At this point, however, the NHC was focused on Cassidy, a major hurricane that was currently wreaking havoc on the southern US.
Islands in the Windward Islands were put on alert, and Tropical Storm Warnings were issued accordingly. On August 14th, the newly minted Tropical Storm Debby barreled through the southern Windward Islands, bringing with it winds of 45-55 MPH. On August 15th, Debby surpassed the rapidly fading Cassidy as the strongest storm in the Atlantic basin. Debby was moving NW towards the Dominican Republic, and the small island country prepared for its second tropical landfall of the season, after Andy, about a month earlier.
During the mid-afternoon on the 16th, Debby reached Hispaniola, bringing torrential rainfall and moderate winds. While not as powerful as Andy (which was a lower end hurricane at its time of landfall) Debby was still considered a disaster, as cleanup had not yet finished and the tropical storm brought more unneeded rain, slowing the effort down. 11 people were killed in this area.
Over the next 2 days, Tropical Storm Debby drove up the eastern edge of the Bahamas, bringing very light impacts, as the west side of a storm is usually not as severe (which was true, in this case).
With the Carribian behind it, the NHC began looking at Debby's potential to impact the United States. Rapid intensification was moderately likely, depending on the amount of wind shear that the storm encountered as it approached the US coast. Tropical Storm Watches were issued for the South Carolina and North Carolina coast. Debby began to rapidly intensify as it moved over warm waters. On August 18th, Debby became a hurricane. In 24 hours, it was a Category 2. By the 20th, Debby was a major Category 3 hurricane (See image). At this point, Hurricane Warnings had long since been issued, and the Georgia coast was already experiencing tropical storm force winds. The landfall, however, was expected closer to Wilmington, NC.
The storm began its final approach on the coast on August 21st. Many people listened to the evacuation orders, after seeing the disaster that was Cassidy, a few weeks earlier. Around 2 PM EST, Debby made landfall a few miles west of Wilmington, with sustained winds of 125 MPH. Storm surge was quite severe across the North Carolina coast, bringing massive flooding to Wilmington and surrounding areas. Despite many folks following evacuation orders, 49 people lost their lives (in the United States) during the storm, from North Carolina to northern Virginia.
Debby began to die off quickly, degrading to a tropical storm by the 22nd, and completely dissipating on August 23rd (just N of Lake Ontario), only two days after its landfall (much faster than Cassidy, which took nearly a week to disappear after landfall. Flash flooding and landslides occurred in the Appalachians for a few days after the storm.
Category 3 tropical cyclone (NHC)
Duration
August 28 – September 9
Peak intensity
195 km/h (120 mph) (1-min)  959 hPa (mbar)
Hurricane Elizabeth
Hurricane Elizabeth was the 5th hurricane of the 2018 season. It impacted the Caribbean Islands, and later Nova Scotia, but did so as a tropical storm. Elizabeth was the final of 5 consecutive major hurricanes that the 2018 Atlantic hurricane season experienced.
On August 28th, a tropical disturbance 800 miles east of Puerto Rico began to materialize as a formidable system. The next day it became Tropical Storm Elizabeth. At first, the storm was moving west-southwest towards the Leeward Islands, but shifted to a west-northwesterly direction 2 days after development. Tropical storm warnings were put in effect for Puerto Rico, which had not yet had a direct hit from a tropical system.
Elizabeth strengthened to a Category 1 hurricane on the evening of the 30th, as it approached the northeast corner of Puerto Rico. That night, Elizabeth passed 30 miles off the coast of northeast P.R. as a Category 1, bringing winds of 40-60 MPH on the island (though a gust of 89 MPH was observed on the Virgin Islands, where the storm passed directly over). Storm surge was moderate, but impacted the capital city of San Juan, causing 9 fatalities.
Elizabeth was very concerning to NHC meteorologists, as it had followed a very similar track to Brennan thus far, first hitting the Lesser Antilles, going to Puerto Rico, and moving NW towards the US. The saving grace in the forecast was a deep trough that was over the eastern United States, which was expected to propel Elizabeth northeast, away from any land.
On September 2nd, the storm became a Category 2, and its track remained 25-50 miles east of Brennan's old track. The east coast trough continued to move east, and by early on the morning of the 3rd, Elizabeth was beginning the shift north/northeastward. At this point, nobody was concerned about deadly impacts from the storm. It was expected to strengthen a little more before dying in the ocean slowly, like Andy had, 2 months back.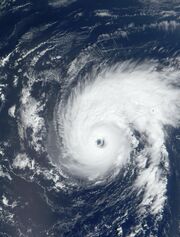 For a short stint on Septmpember 5th, Elizabeth gained Category 3 status. Her direction was not as northeasterly as the NHC had anticipated, and there seemed to be potential for a Canadian landfall. With the storm slightly less than 500 miles south of Nova Scotia, Environmental Canada issued tropical storm warnings for the Nova Scotia coast, from Cape Sable to Cape Breton Island.
Late on the 6th, 250 miles south of Cabe Sable (the southernmost point of Nova Scotia), Elizabeth became a Category 1. The NHC anticipated much more weakening before any major impacts got to Canada. September 7th was the day that Elizabeth made its impacts on Canada. It moved NE, parallel to the Nova Scotia coastline, staying 50 miles off of the coast +/- a bit (See image). Winds were measured up to 45 MPH in Halifax, and may have been around 60 MPH in more rural areas to the south. Despite the storm being quite weak, 4 people died when a tree fell on their house.
Elizabeth's days were numbered at this point, as the dying storm pushed away from Canada towards the ocean early on the 8th. The NHC continued to watch for circulation and convection until the very end. Surprisingly, there was rotation for another day, but by September 9th, the remnants of Hurricane Elizabeth dissipated.
Category 1 tropical cyclone (NHC)
Duration
September 3 – September 11
Peak intensity
145 km/h (90 mph) (1-min)  984 hPa (mbar)
Hurricane Frieda
Hurricane Freida was a moderately powerful Category 1 hurricane that made 2 landfalls; one in Mexico and one in the United States. It was the first tropical cyclone of the 2018 season that didn't become a major hurricane.
During late August and early September, a tropical low had been meandering around in the Caribbean Sea south of Cuba. After about a week of watching this area of disturbance, the NHC named it Tropical Depression 6L on September 3rd. 6L quickly became Tropical Storm Freida, just east of Honduras.
Freida was moving NW directly towards the Yucatán Peninsula, and Tropical Storm Warnings were issued for both sides of the peninsula, which was going to take a direct hit. Freida made landfall 60 miles southwest of Cancun at 2:00 AM CDT, with sustained winds of 60 MPH. The storm was actually fairly small, so impacts were limited to a radius of about 100 miles, with tropical storm force winds extending 50 miles from the center. Despite this, Freida killed 15 people in Mexico.
As the storm left the Yucatán Peninsula on September 6th, concerns arose that Freida would strengthen rapidly, over the same waters that supported Cat. 5 Cassidy, a month before. However, wind shear was strong enough to hinder significant development, saving the USA from another massive hurricane. Strengthening was still a possibility, however, as Freida moved towards southeast Texas.
Late on the 6th, Tropical Storm Warnings and Hurricane Watches were issued for southeast Texas and southwest Louisiana, including Houston. Freida remained a small storm (not helped by the hostile environment it was in), so impacts would be limited to the vicinity of landfall, especially because the storm was given virtually no chance of long term survival inland.
After remaining at a constant 60 MPH intensity for 2 days, Tropical Storm Freida began to move into very favorable waters a few hundred miles off the coast of Texas. After strengthening for the entirety of September 7th, Freida achieved hurricane status early on the 8th, only 175 miles southeast of Houston. The storm showed no sign of stopping its intensification before landfall, and people within the city began to panic. It was expected to hit that night (8th/9th), and most people hadn't prepared at all for a hurricane, as it was supposed to be a borderline Category 1 at best.
Freida made its final approach on Texas (namely, Houston) early in the evening. It had wind speeds of 85 MPH, which increased to 90 MPH at landfall. Freida indeed made landfall, at 11 PM CDT on September 8th, 10 miles east of downtown Houston. Storm surge wasn't bad at all, but erratic winds in the small eyewall of the hurricane caused the majority of the damage, with downed power lines and fallen trees widespread throughout the storm's path.
Freida remained a Category 1 storm until the late evening on the 9th, not too far from Dallas. It remained a tropical storm through the next day, before dissipating over eastern Nebraska on Septemebr 11th.
32 deaths can be attributed to this storm in the USA alone, primarily due to its surprising strength, most of which was gained in the final 12-24 hours before landfall. It didn't help that Freida plowed directly through the two largest metro areas in Texas. Luckily, because of its small size, the majorly damaging winds were limited to a small area (compared to Cassidy, which razed Corpus Christi, w/ 150+ MPH winds). The storm overall caused 47 fatalities.
Tropical storm (NHC)
Duration
September 14 – September 19
Peak intensity
95 km/h (60 mph) (1-min)  998 hPa (mbar)
Tropical Storm Gert
Tropical Storm Gert was the first non-hurricane to occur during the 2018 hurricane season. It made landfall in Florida, killing 33 people.
On September 14th, a tropical depression had generated over the northern Bahamas (near Nassau), from an area of thunderstorms that'd been ravaging the area for about a day. This area of storms quickly intensified into Tropical Storm Gert.
It passed over the northern Bahamas quite passively, causing no injuries or deaths, and bringing 40-50 MPH winds. Florida, however, was in the direct path of Gert, and the NHC didn't see a shift in direction coming anytime soon.
Tropical storm warnings were issued for Florida by the evening of September 14th, but no evacuation orders were issued. Gert continued its northwesterly track on September 15th, slightly strengthening as it moved towards the coast (See image). The NHC, noted, however, that Gert looked to be the first 2018 Atlantic cyclone to not reach hurricane status.
Around 1:00 AM EDT on September 16th, Tropical Storm Gert made landfall near Cape Canaveral, bringing with it winds of 60 MPH and torrential rainfall. The storm passed through northern Florida during the day on the 16th, remaining a tropical storm and losing virtually no strength. This, in part, caused a majority of the 33 casualties, as many people (including the National Hurricane Center), did not expect a mediocre tropical storm to persist very long over land.
Gert finally began to weaken over Georgia on September 17th, but managed to hand onto tropical storm status through the entire day. Along with strong winds of up to 55 MPH, 6-12" of rainfall occurred across a large portion of the state.
Early on the morning of the 18th, Gert crossed into Tennessee and became a tropical depression, near Chattanooga. Heavy rainfall and moderate winds persisted over eastern Tennessee during the day, but upon hitting the southern Appalachians, the already weakened Gert became a remnant low early on September 19th. The remnants of Gert were swept into an oncoming cold front, and by the mid-morning, Gert dissipated completely, near the tri-state area of Kentucky, West Virginia, and Ohio.
Category 1 tropical cyclone (NHC)
Duration
September 10 – September 23
Peak intensity
145 km/h (90 mph) (1-min)  984 hPa (mbar)
Hurricane Hogan
Hurricane Hogan was the 7th hurricane of the 2018 season. It developed earlier than Tropical Storm Gert, but didn't strengthen to tropical storm levels until after Gert, causing it to receive the 'H' name, as opposed to the 'G' name. Hogan was noted for its extreme similarities to Hurricane Freida, which came a week earlier.
Late on the afternoon of September 10th, the National Hurricane Center detected that a tropical wave they'd been watching for several days, had reached adequate intensity to be classified as a tropical depression. It was only 10 miles off the east coast of Venezuela (near the border with Guyana), so Tropical Depression 7L made landfall only 1 hour after becoming a depression. The area near landfall experienced modest winds of 25-35 MPH, and heavy rain.
By the next advisory, 7L had lost a significant amount of organization, and might as well have been a cluster of heavy thunderstorms, so 7L was classified as a remnant low, early on September 11th. By now, sustained winds were non-existent (generally <15 MPH). Heavy rains continued across Venezuela, but at the time, 7L seemed like it would disappear right then and there.
The NHC discontinued advisories on the system at 11 PM EDT on the 11th. The system tracked over north South America on the 12th, and early on September 13th, emerged over the Caribbean Sea, near the Venezuelan/Colombian border. 7L was over very warm waters, but it took the system the better part of 36 hours to regain tropical depression status, and the NHC resumed advisories on the storm, late on the 14th. At this point, it was within 100 miles of the spot where Freida first developed. However, the storm wasn't expected to hit the Yucatán Peninsula.
5 days after first developing, the tropical depression became Tropical Storm Hogan on the night of the 15th/16th, a few hundred miles east of the (Mexican) state of Quintana Roo. Hogan was on track to pass between the western edge of Cuba and eastern edge of Mexico, and enter the Gulf of Mexico. It did just that, though high winds and heavy rainsbattered the city of Cancun, and 7 people lost their lives when a landslide destroyed their home.
Now over the gulf, the NHC began to watch for intensification. It was pretty much an accepted fact that Hogan was going make landfall, it was just a question of where exactly, and at what strength. By September 17th, tropical storm warnings/hurricane watches had been issued for Louisiana, which appeared to be in the path of Hogan. The storm was gaining strength, slowly but surely, and had sustained winds of 70 MPH early on the 18th, 150 miles from the Louisiana coast. By that afternoon, Hogan was a hurricane.
Hurricane Hogan made landfall in central Louisiana as a moderate Category 1, with winds of 80-85 MPH. This occurred at 10 AM CDT on Sep. 19th. The storm was not done strengthening, however. Hogan didn't reach peak intensity until about midnight on the 19th/20th, in central Louisiana, acheiving peak sustained winds of 90 MPH. Despite Hogan being a Category 1, the hurricane brought tremendous amounts of damage to inland parts of the state. Little did the Louisianans know of the destruction that another storm would bring in less than a month.
The system finally became a tropical storm in the vicinity of Texarkana on the 21st, and weakened further to a depression later that day. Hogan began to speed up rapidly and made it to central Nebraska before finally dissipating late on the 22nd.
Orignial Video
This is the video that I based this whole season off of, created by the YouTube channel TwinGamersTV, which I am not affiliated with in any way.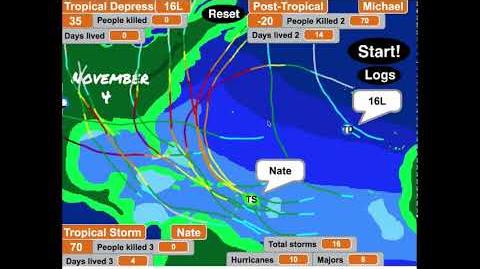 Community content is available under
CC-BY-SA
unless otherwise noted.