Tropical Cyclone Headlines:
---
THE DAILY CYCLONE NEWS
21:36 UTC, February 7, 2020
NOTE: Information on this template is taken from the local Regional Specialized Meteorological Centers, who issue official warnings on tropical cyclones and possible suspect areas when needed. Please note that information on this template may be slightly out of date during busier periods of tropical cyclone activity.
Forecaster: FCX
Storms
Atlantic storms
There are no systems active in the Atlantic. The season ended, and will begin again on June 1st, 2020.
Eastern/Central Pacific storms
There are no systems active in the Pacific. The season ended, and will begin again on May 15th, 2020.
Other basins
Western Pacific:

No storms are active in the West Pacific at this time.
Northern Indian:

No storms are active at this time.
Southern Hemisphere:
Tropical Cyclone 14S (Damien): 85 kn (100 mph; 155 km/h) (10-min), 85 kn (100 mph; 155 km/h) (1-min), 969 mbar (28.61 inHg). (Advisory #8)
Damien is continuing to intensify as it continues its crash course towards Australia. As of right now, the city of Karratha looks to see some of the worst impacts.
Invest 91P is also active and has a medium chance of formation.
9 depressions, 9 storms, 3 cyclones, 0 majors, and 0 Category 5 storms have formed so far worldwide this year.
Countdowns
Countdown to the 2020 East Pacific hurricane season
May 15 2020 00:00:00
Countdown to the 2020 Atlantic and Central Pacific hurricane seasons
June 1 2020 00:00:00
Wiki Headlines:
September 13, 2019: We're introducing our new logo! It was made by our former bureaucrat Puffle and approved by a majority of the community.
July 13, 2019: Hypothetical Hurricanes Wiki reaches 8,000 pages!
January 25, 2020: Hypothetical Hurricanes Wiki reaches 9,000 pages!
Welcome!
---
Welcome to the Hypothetical Hurricanes Wiki, a friendly community on which you can create your very own tropical cyclone seasons, made completely from your imagination!
We've been editing 9,157 articles since September 28, 2010.
Today is Thursday, February 27, 2020. The current time is 08:41 UTC.
This encyclonepedia, founded by Sjmaven1993 on September 28, 2010, is for tropical cyclone enthusiasts who want to make articles for all kinds of tropical cyclones, as they have come to their wonderful imagination. This wiki is where you can let your tropical cyclone-ridden mind go absolutely wild! Do whatever you want to do! Get yourself off the couch, sit down on that comfortable weatherman's chair, and make some tropical cyclones!
Let's get editing!
If you want to know more about us, please check this page for more information about the wiki!
Featured article:
---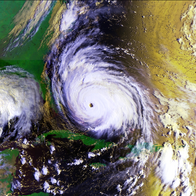 View this highly above average season made by CobraStrike that has many storms hit Central America! This season has attracted popularity, and it has attracted a lot of consistency when it comes to the editing of the page, making this the article of the week. The article may not be finished yet, but it sure has the potential.
Are you new on this wiki? Welcome!
---
Here is how you can get started:
Let us know about you. Edit your userpage.
Set up your profile and personalize your user page. Show your creativity!
Want to meet new friends? Try visiting our Discord chat, or talking with out users on Discussions!
Read and edit on this wiki!
And make your own hypothetical hurricane seasons, as awesome as they can be, with as many storms as you like! Click here to get started and read this guide to help you make your very own season! Need some more help? Maybe this page is for you.
Need any help? You can message any admin on their message wall!
Anyway, we're happy to have you here! Enjoy the Hypothetical Hurricanes Wiki!
Wiki news:
---
News of 2019
EFFECTIVE — March 1, 2019 — Season 14 of Hurricane Idol has started! This year's season is being hosted by Roy25 and co-hosted by Cooper7579. Make sure to check out the rounds in this page here!
News of 2018
EFFECTIVE — June 18, 2018 — A personal message from Hypercane:
We just hit 6,000 pages! I remember when we had less than 1,000 pages in 2013 when I first started here, thank you to all of our contributors past and present for making this milestone possible.
EFFECTIVE — July 7, 2018 — Hurricane Idol Season 13 name submissions officially started on this date. It is currently hosted by Farm River and co-hosted by HurricaneBrick.
EFFECTIVE — September 30, 2018 — Enemy lists will be removed immediately from userpages. This is being done to resolve a conflict that has been going on for the past several months and to prevent further conflict in the future. We are asking that you remove the enemy lists from your pages immediately if you are able to. If you cannot, ask an administrator to do it for you. If you refuse to remove them, we will remove them regardless.
Community content is available under
CC-BY-SA
unless otherwise noted.