Hurricane Humberto-Kong-rey (Josh)
Category 3 hurricane (SSHS)
Formed
August 1, 2013
Dissipated
August 30, 2013
Damage
$60 billion (2013 USD) $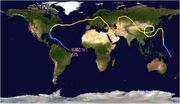 Hurricane (Typhoon) Humberto-Kong-rey was a powerful hurricane that formed off the coast of Brazil on August 1, 2013, then made landfalls along the United States East Coast, the United Kingdom, and the Continental European Union, before dissipating over Japan. Humberto earned the name Kong-rey in the West Pacific. Humberto-Kong-rey also earned the name Josh because the storm crossed over to the European windstorm area. His highest winds were 120 miles per hour (mph) and caused $60 billion (2013 USD) worth of damage worldwide and killed almost 2,000 people. Due to the damage he caused, the name Humberto was retired in the spring of 2014 and was replaced with Hermes for the 2019 season.
However, Humberto caused a major uproar in the WMO convention in Spring 2014 and hacked their systems so that these videos instead of the "boring documents" showed up on the big screen:
http://host-d.oddcast.com/elfyourself2012/?mId=45666812.3 http://host-d.oddcast.com/elfyourself2012/?mId=45666595.3
Due to this, Humberto was arrested and therefore was put into prison for 1 year due to severe trolling.
Community content is available under
CC-BY-SA
unless otherwise noted.