NOTICE: THIS IS IN NO WAY BASED ON REAL LIFE STORMS - THE STORMS LISTED HERE ARE ENTIRELY FICTIONAL FOR THE YEAR, AND DO NOT REPRESENT THE SEASON IN THE PHYSICAL WORLD
Hurricane Arlene
Category 4 major hurricane (SSHWS/NWS)

Arlene making landfall along the Spanish coast at peak intensity on August 12th

Formed
August 1, 2023
Dissipated
August 20, 2023
(Remnant low after August 12)
Highest winds
1-minute sustained:


140 mph (220 km/h)



Lowest pressure
935 mbar (hPa); 27.61 inHg
Fatalities
51 total
Damage
$57 billion (2023 USD)
Areas affected
Cabo Verde, Canary Islands, Azores, Madeira, Morocco, Spain, Portugal, Central Europe, Eastern Europe
Part of the 2023 Atlantic hurricane season
Hurricane Arlene was the most destructive hurricane of the 2023 Atlantic hurricane season, as well as the only storm on record to make landfall in Europe as a major hurricane. It was the first storm, first hurricane, and first major hurricane of the season, developing near the Cabo Verde islands in early August. Arlene was the costliest and deadliest tropical cyclone to strike Europe, as well as the sixth costliest Atlantic hurricane at the time, as it struck the Madeira archipelago on August 9th, and later made landfall along the Spanish coast between the cities of Huelva and Cadiz early on August 12th, causing devastating effects to the impacted areas. It was also the first tropical cyclone to strike Europe since Vince of the 2005 season, which struck Spain as a mere tropical depression.
Arlene's precursor formed on August 1st, just off the western coast of Africa. In favorable conditions, it developed into a tropical depression on the same day as it moved west. On August 2nd, it intensified into a tropical storm and was named, from which point it continued to intensify. In unusually warm waters, Arlene intensified into a hurricane on August 5th as it started its northeasterly trek. Intensification continued as Arlene approached Europe, and it became the first major hurricane of the season on August 8th. Intensification halted for a little while Arlene approached the Madeira archipelago and made landfall on Porto Santo island on August 9th, however as Arlene hit record breaking sea surface temperatures and extremely favorable conditions, on August 10th, it was upgraded and became the easternmost category 4 hurricane in the Atlantic. On August 12th, Arlene made its worst landfall, in the Doñana National Park in Spain, as a category 4 hurricane at its peak intensity, becoming the most intense storm to do so. After landfall, Arlene rapidly degenerated, becoming a remnant low on August 13th. Its remnant low continued on its northeasterly course, moving across a large part of Europe producing major rainfall, until finally dissipating on August 20th, near the Lithuanian - Belarusian border.
As a category 3 hurricane, Arlene directly hit the Madeira archipelago, causing devastating damage and making one of the islands uninhabitable. However its impacts were most apparent in its final landfall location, where Arlene caused devastating damage to a stretch of the Spanish coastline from the city of Huelva to the city of Cadiz, with a massive storm surge reaching 4.57 meters (15 feet) along most of the area and 140 mph winds, as well as rainfall exceeding 20 inches causing major flooding, even inland. Arlene caused 51 direct deaths as a tropical cyclone, with 45 being recorded in mainland Spain and Portugal, and another 6 recorded in the Madeira archipelago, with the deaths caused by flooding from its remnant low not being accounted for. With a damage toll of $57 billion, Arlene became the costliest natural disaster in Europe, as well as the sixth costliest Atlantic hurricane at the time, and the costliest disaster worldwide in 2023. Arlene was the first Atlantic storm on record to be retired solely for its impacts in Europe, with both Spain and Portugal requesting retirement under an exception.
Meteorological history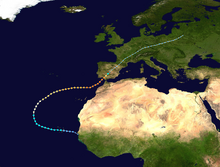 The National Hurricane Center began to monitor a tropical wave over Africa in late July. It emerged off the coast of the continent early on August 1st, and was immediately given Potential Tropical Cyclone status due to its threat to Cabo Verde. The wave rapidly organized in highly favorable conditions while it produced thunderstorms and showers, and was designated a tropical depression at 12:00 UTC, when it was found to possess tropical cyclone characteristics. The newly designated depression didn't intensify for some time due to proximity to land, however eventually, as it hit better conditions, it did intensify, intensifying into Tropical Storm Arlene at 12:00 UTC August 2nd, just as it passed in between the Cabo Verde islands.
After being upgraded to a tropical storm, Arlene's intensification rate slowed down as it moved west and later north. However, at 12:00 UTC August 5th, satellite derived estimates and recon measurements resulted in Arlene being upgraded to a category 1 hurricane, with a shallow but emerging eye. Arlene's structure was described as being unusual for the location, resembling more a hurricane in the deep tropics than in the cold waters around Europe. As Arlene's structure improved still, and it moved on its northeasterly track, it intensified into a category 2 hurricane at 18:00 UTC August 6th. Now possessing a clearing eye, Arlene was approaching major hurricane status.
At 06:00 UTC August 8th, Arlene was upgraded to a category 3 hurricane, becoming the first major of the year in the Atlantic, and the 9th worldwide. At that point, the National Hurricane Center was forecasting a hurricane strength landfall in Spain, with extremely favorable conditions along its forecast track, which caused a large amount of preparations to take place along the southern Portuguese and southwestern Spanish coastlines, as well as in the Madeira archipelago, which was forecast to receive a direct hurricane strike within two days. A small Eyewall Replacement Cycle happened immediately after the upgrade, however it did not impact Arlene in any ways other than halting its intensification. After its eyewall stabilized, Arlene continued intensification as it moved east, threatening the coastline of Morocco. Now with a clear eye feature and very cold cloud tops, it was nearing category 4 status. At 18:00 UTC August 9th, Arlene passed dangerously close to the island of Madeira and made a direct hit, producing category 3 winds in the island and causing devastating damage. At 21:00 UTC of the same day, Arlene made a direct landfall on Porto Santo island near Madeira, making the island uninhabitable until recovery was taken.
At 12:00 UTC August 10th, Arlene was upgraded to a category 4 hurricane, and at the same time, mandatory evacuations were issued for the southwestern Spanish coast, from the city of Huelva to the city of Cadiz, as the forecast track narrowed the landfall location to within that stretch of coast. At 06:00 UTC August 12th, Arlene made landfall in the Spanish Doñana National Park, as a 140 mph category 4 hurricane with a pressure of 935 hPa (mbar), a record low for a tropical cyclone landfall in Europe, as well as the northernmost and the easternmost category 4 landfall on record in the Atlantic. A large amount of doubt was thrown over the real peak intensity of Arlene however, with numerous pieces of evidence supporting a higher intensity, anywhere between 155 mph to 175 mph, with the Spanish meteorological agency AEMET estimating Arlene to be a category 5 hurricane at landfall.
After landfall, Arlene rapidly weakened as its organization was torn apart by the uneven terrain of the southern Iberian peninsula. By 12:00 UTC, Arlene weakened to category 2 status, and by 18:00 UTC, a tropical storm, finally degenerating to a remnant low at 00:00 UTC August 13th, after it was found to no longer possess a closed circulation. Arlene's remnants continued to move northeast through Europe while dropping over 20 inches of rainfall, which caused flash flooding, and passed over France, Germany, Poland, finally dissipating over Lithuania on August 20th, when it was absorbed by a non-tropical frontal cyclone.
Intensity debates
Due to its impressive satellite appearance and wind speed measurements on the ground, many meteorologists suggested that Arlene had wind speeds higher than 140 mph and a pressure lower than 935 hPa (mbar). The National Hurricane Center's official estimates were made under the assumption that "the storm had a satellite appearance that implied it was more intense than it really was, and the instruments recording wind speeds on the ground were inaccurate". The Spanish national meteorological service, AEMET, gave Arlene a wind speed estimate of 260 km/h (160 mph), making Arlene a minimal category 5 hurricane, with a pressure estimate of 927 hPa (mbar). Some meteorologists suggested that the wind speed was even higher than that, based on an extremely impressive satellite appearance, with every Dvorak technique estimate of the storm coming up with a number higher than T 7.0, indicative of category 5 intensity. Damage survey teams identified the damage as being of "low-end EF4 intensity", indicative of wind speeds around 166 to 170 miles per hour (267 - 322 km/h), also placing Arlene in the category 5 range.
Preparations
Cabo Verde
On July 31st, the Ministry of Environment, Housing, and Territorial Planning of Cabo Verde issued a high wind warning for a tropical wave, that was potentially going to hit as a weak tropical storm. A rainfall threat was considered for a short time before updated forecasts lowered the amount of rainfall to essentially unnoticeable, thus presenting no flooding threat. At 00:00 UTC August 1st, official tropical storm warnings were issued for all islands of the country, while the wave received Potential Tropical Cyclone designation. Citizens took minimal precautions, including limiting outside activity on the days the storm would pass, as well as preparing some supplies in case they were inaccessible. Small craft advisories were put into effect from early on August 2nd to late on August 3rd. When Arlene passed through the country without incident, at 00:00 UTC August 3rd, all warnings were canceled.
Morocco
As Arlene approached very closely to the Moroccan Atlantic coastline with category 3 winds, a hurricane watch and a tropical storm warning were both put into effect along the coast, from the city of Agadir to the city of Tangier, on August 9th, with evacuations for especially susceptible areas, totaling about 11,300 inhabitants. Citizens were advised to limit outside activities and stock up on supplies ahead of Arlene, and small craft advisories were issued. Forecasting uncertainty indicated a possible landfall, which prompted the authorities to plan for an even larger mandatory evacuation of the coastal areas. However, as the forecast track narrowed down, it became apparent that the impacts would be limited to tropical storm winds and high surf, with a possibility of severe rainfall and storm surge. Arlene had its closest approach to Morocco on August 11th without major incident, and all warnings and watches were canceled on August 12th.
Europe and its territories
The Azores and the Canary Islands
For a short time, the Azores were given a small chance of tropical cyclone impacts, and minimal precautions were taken, with a tropical storm watch being issued on August 6th, and later canceled on August 8th, when it became clear that the islands would not be receiving any impacts from the cyclone. Citizens were advised to look over their storm supplies in case the storm would have more significant impacts. In the end, the Azores only received moderate winds from thunderstorms associated with Arlene, and low surf.
Like the Azores, the Canary Islands were also put under minimal preparation for the cyclone as forecast uncertainty meant possible tropical storm winds, and a large part of the islands were put under thunderstorm warnings from August 9th to August 11th, while it was hit by the outer bands of Arlene. In the end, minimal impacts were recorded in the archipelago, all consistent with a front of thunderstorms passing through.
Madeira
Early on August 6th, a tropical storm watch was issued for the entire territory of Madeira, as Arlene was expected to pass near the islands as a tropical storm. However, as Arlene approached and did not weaken, the watch was quickly upgraded to a hurricane watch on August 7th. Inhabitants of the islands were ordered to stay indoors and gather large amounts of supplies, 300 tons of which were flown in from Portugal and Spain during the preceding days and later distributed, free of charge, across the territory. Additional preparations included mandatory evacuation of low-lying areas, fuel conservation policies, closure of any public services not including emergency services, and the closure of a large majority of institutions. Voluntary evacuations, also free of charge, were initiated later that day.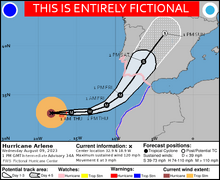 On August 8th, a hurricane warning was issued for the entire Autonomous territory, and a state of emergency was declared. The islands opened up 'hurricane shelters' in governmental buildings, specifically ones above what any potential surge could reach, and any marine activity was temporarily forbidden. Any citizen spotted outside by governmental officers was strongly urged to evacuate or shelter, until the evacuations were canceled early on August 9th. Several more planes carrying supplies landed, bringing the total amount of supplies flown in to 400 tons. A few ships from the Portuguese navy were deployed to assist during and after the storm. As the cyclone neared the islands, the Portuguese and Spanish militaries prepared to assist in case of civil unrest, and several European Union member states prepared to execute supply drops. Finally, as the storm approached dangerously close, early on August 9th, any evacuations were halted due to dangerous conditions, and the islands went on complete transportation shutdown.
Mainland Spain and Portugal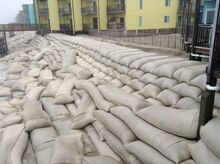 On August 8th, tropical storm watches were issued from Lisbon in Portugal, along the coast, all the way to the territory of Gibraltar, north of the Moroccan city of Tangier and the Spanish city of Ceuta. Unnecessary public services were temporarily terminated, and residents were advised to stay indoors between August 11th and August 13th. On August 9th, as Arlene's intensification became apparent, the watch was upgraded to a hurricane watch, resulting in large amounts of surplus supplies being brought in to the coastline, in preparation for the hurricane. Over 1500 tons of supplies were brought in by landfall. At the same time, a majority of the southern Iberian peninsula was placed under thunderstorm and high wind warnings in the two and three day range. On the same day, evacuation of low lying areas begun, and a massive campaign to increase coastal protection between the cities of Faro in Portugal and Cadiz in Spain was launched, to be carried out by the military and local police forces. In addition to that, fuel conservation had begun, and any non-essential services were indefinitely shut down, while citizens not living in evacuated territories were advised to take caution, and be prepared for evacuation anyways. By the time evening came, and as the track forecast narrowed down the landfall area to a stretch of coastline between Huelva and Cadiz in Spain, the hurricane watch was upgraded to a hurricane warning.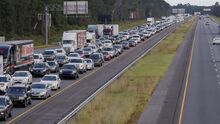 Early on August 10th, a mandatory evacuation was declared for the entire coastline between Huelva and Cadiz, up to 30 kilometers inland in some areas, affecting nearly 900 thousand people, a large majority of which did evacuate. Upwards of 10 million people in a wider area were told to prepare for strong winds and potential flash flooding, and the Spanish government declared a state of emergency in the Autonomous community of Andalusia, with the Spanish military being deployed to the community to keep order and assist with recovery. For the small minority who refused to evacuate, 'hurricane shelters' were established in government buildings safe from storm surge. Several European Union member states sent various forms of help, including a few ships to assist with recovery, another 1000 tons in supplies after landfall, and a few hundred military personnel to assist with preparation and recovery. While contraflow was not implemented on August 10th due to concerns about the evacuation being unnecessary, by midnight on August 11th, it was put into effect for the remainder of the evacuation by an executive order. Late on August 11th, the evacuations were canceled, due to the extremely close proximity of Arlene to landfall causing dangerous conditions for evacuation. It was estimated that 90% of inhabitants in the evacuation area successfully evacuated, and the evacuation was considered successful. A massive search effort was conducted to find any people who wanted to evacuate but couldn't, and any person who was found was taken to a hurricane shelter. Very early on August 12th, a total shutdown was issued for transportation in the area, and emergency services were instructed to only respond to urgent calls.
Other countries
In a large part of Central Europe, the passage of Arlene's remnants caused the issuance of thunderstorm and flood or excessive rainfall warnings. It is estimated that in total, at least 100 million people in Europe were impacted by the storm or at least warned in advance for its impacts. Spain, Portugal, Andorra, France, Germany, Austria, Liechtenstein, Italy, Luxembourg, Belgium, Poland, Czechia, Slovakia, Belarus, and Lithuania all issued weather warnings related to the remnants of Arlene, and most warned areas received some level of impact.
Impact
Madeira
The eyewall of Arlene struck Madeira island at 18:00 UTC August 9th with category 3 force sustained winds, with some gusts well into category 4 territory. It was reported that Arlene damaged a majority of the buildings on the island, with a significant number of buildings declared unsafe for inhabitants during the damage surveys. In the island, unprepared for strong hurricanes, the infrastructure was severely damaged or completely devastated, and communication to the nearby islands was destroyed, with only one link to mainland Portugal remaining functional. Power supply was disrupted to the entire island for a day, until it was temporarily repaired, before permanent supply could be established. Storm surge and waves resulted in significant erosion, reportedly destroying several tens of homes which were located along the coast. Damages in Madeira island reached $1.75 billion, and five deaths were recorded.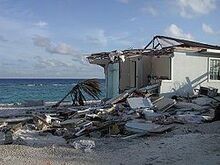 However, the worst effects in the territory of Madeira were felt in the island of Porto Santo, which received a direct landfall at 21:00 UTC of the same day, recording winds in excess of 115 mph sustained, well into category 3 force, with several gusts nearing category 5 force. Communication was completely severed when the storm struck, leaving the island with no way to contact other islands or mainland Portugal. Severe devastation was reported on the island, with a report saying that "all buildings in the island suffered major damage, the island likely going to be uninhabitable". Indeed, a mass evacuation of the island was ordered as soon as the storm passed, and the island was declared completely uninhabitable in damage surveys afterwards. Power, water, and communications were all completely non functional, most roads were unusable, and most buildings were unsafe for residence. Damages in Porto Santo island totaled $250 million, and one death was reported, a person killed by flying debris.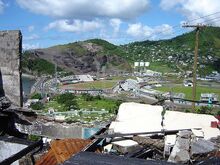 Overall, damages in the territory of Madeira amounted to $2 billion (2023) as reported by the territorial emergency government, which was the costliest impacts of a tropical cyclone to any Spanish or Portuguese territory until Arlene's landfall in Spain. 6 deaths were reported in the territory, with 3 being caused by the winds, and the rest caused by storm surge.. Arlene remains the definite worst natural disaster in Madeira's history, and its effects are estimated to take up to 10 years to fully recover from.
Mainland Spain and Portugal
Arlene's strong 140 mph wind speeds resulted in major damage along the southwestern Spanish coast, especially along the coast from Huelva to Cadiz. The strongest observed wind speed was a gust, momentarily reaching up to 187 mph, while the strongest sustained wind speed recorded was 161 mph. Over 750,000 homes were left without electricity for at least several days, and rainfall exceeded 20 inches, causing severe flash flooding to occur. Storm surge reaching and exceeding 15 feet (4.57 meters) inundated a large area, and was reported to have reached up to 5 kilometers inland in some places. Overall, Arlene's damage toll in Spain reached $55 billion (2023), making Arlene the costliest natural disaster to hit Europe on record, and the second costliest disaster in Europe overall, just behind the Chernobyl Meltdown of 1986. Areas immediately around the Doñana National Park were devastated and declared uninhabitable for an indefinite amount.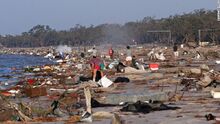 A total of 45 people were reported as dead in Mainland Spain and Portugal. A large majority, 37 deaths, were flooding related, with the remaining 8 deaths being caused by wind, structure collapses, or flying debris. In the city of Cadiz, 11 people were reported as dead, because of the high storm surge flooding the city. In the Cadiz Metropolitan area alone, 23 deaths were recorded, as the area is low-lying. In the city of Huelva, 5 deaths were reported, mostly due to the city's better protection against storm surge and flooding in general. The other 9 deaths occurred in between Huelva and Cadiz, mostly near the coast. There were also a large number of reported deaths by rainfall induced flooding, however they were not attributed to Arlene and instead were attributed to its remnants. If the impacts from the remnants are included, Arlene's death toll in Spain and mainland Portugal reaches over 60.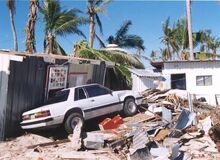 As Arlene's precise landfall location was in a national park, and thus sparsely populated, its worst effects were felt in a few small towns, and the national park itself. In Sanlúcar de Barrameda, the largest city in the eye's path, every building was severely damaged, with many buildings completely destroyed. Power supply, water, and communication were entirely disabled (and in many cases, the supply methods physically damaged) for weeks, and many roads were damaged to the point they required repairs to operate, as well as physical blockage making roads impassable. A 15 foot (4.57 meter) storm surge flooded every street in the city, and reached well into the first floors of many buildings. In Cadiz, a storm surge as severe as in Sanlúcar de Barrameda caused devastating damage to the city, with every street being flooded, and the city being physically cut-off from the mainland, as all roads were flooded or damaged to the point of necessary repair. In Huelva, damage was less severe, but still constituted the worst damage ever reported from any natural disaster in the area. Finally, the Doñana National Park was nearly destroyed, and a large part of its animal population almost became locally extinct, while the marshes were completely flooded and submerged, and the sand dunes were entirely swept away, leaving a large trail of sand reaching well inland. The National Park's employees called Arlene "the worst thing that happened to their park", and determined, that the damage was impossible to recover from.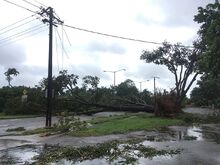 Arlene's impacts were not limited to the coast, however, and its remnants contributed to major flooding inland. In the mountainous areas of Spain, rainfall nearing 20 inches caused several mudslides, and widespread flooding resulted in at least 15 additional deaths in mainland Spain and Portugal, in addition to the 45 deaths resulting from Arlene's category 4 landfall. In the city of Seville, hurricane force winds from the still-tropical hurricane Arlene and rainfall resulted in severe damage, while further inland, damage caused by rainfall ranged from "significant" to "immeasurable". Overall, Arlene caused $55 billion (2023) in damages and resulted in 45 deaths in Spain as a tropical cyclone, and in addition resulted in another $3 billion in damages and an additional 15 deaths, albeit as a remnant low.
Other locations
In Andorra, rainfall resulted in minor flooding, but the country was overall not severely impacted. However, in France, severe rainfall resulted in widespread flash flooding in several areas, mostly rural. Damages in France totaled $750 million, and resulted in state of emergency declarations in several provinces of France. 3 deaths were reported, and over 200,000 lost power in the country. In Germany, slight flooding was reported, resulting in $250 million in estimated damages, and 5 reported deaths. Streets in several cities were flooded, and many reports of fallen tree branches were recorded. Meanwhile, in Poland, a tornado outbreak happened from the system, with several strong tornadoes reported. Overall, in Poland, $250 million in damages was reported, and 6 deaths were recorded. 400,000 people were left without power at one point. Finally, in Belarus and Lithuania, minor rainfall and minor winds resulted in insignificant damage. Arlene's remnant's disastrous track through Europe was finally stopped on August 20th, as a larger extratropical cyclone absorbed it. Total damages from Arlene's remnants in other European countries amount to $1.25 billion, with 14 confirmed deaths. This makes the total damage toll from Arlene and its remnants an unprecedented $61.25 billion (with $57 billion of that from its tropical phase), and its total confirmed death toll 80 (with 51 of those from its tropical phase).
Aftermath
Madeira
A high degree of devastation, not observed on the island before Arlene, resulted in an emergency declaration in the territory. $250 million in recovery funds was allocated for recovery, and the Spanish national guard was deployed. Recovery is estimated to take upwards of 5 years.
Spain
On August 12th, the day of the landfall, a curfew was started to deter post-storm looting, however there were no recorded attempts of looting in any of the affected areas, and the curfew was eventually lifted on the 15th. On August 20th, residents were allowed to return to their devastated homes, while tourism was only continued on August 27th, when it was verified that the conditions in the affected areas were safe. Many state level highways were closed for checks or repairs, and transportation after the storm was limited. Widespread loss of power resulted in the Spanish communications services being severely compromised. It was estimated that 90% of the cell towers in southwestern Spain were non-functional or completely destroyed, and the grid was only restored to full capacity by early September, when temporary communications were established. Significant flash flooding also significantly increased water-borne disease infection rates in Spain in the weeks following the storm. The national Spanish Health Service advised to not enter storm affected areas unless necessary.
Records
Arlene, owing to its unusual location, set multiple records for the Atlantic basin, as well as the European continent. Its first set of records was the north-easternmost major hurricane direct strike to a land area and the north-easternmost major hurricane landfall at 18:00 UTC and 21:00 UTC August 9th respectively, in Madeira island and Porto Santo island. It also set the record at the time for the costliest hurricane to strike a Portuguese territory, with a damage total of $2 billion, with 6 reported deaths, as well as the strongest hurricane to strike a Portuguese territory. As Arlene continued northeast, it was heading to set another record, which it did, as it made landfall in Spain at 12:00 UTC August 12th, breaking its own record for the north-easternmost major hurricane landfall, as well as the north-easternmost Atlantic hurricane landfall since Vince in 2005. It also became the strongest and most intense hurricane to make landfall on the European mainland, shattering the previous record by Hurricane Vince of 2005 (which made landfall in Spain as a tropical depression). Finally, as the devastation brought by Arlene became apparent, several more records were broken, with Arlene setting the record for the costliest disaster in Spain, as well as the costliest natural disaster in Europe, as well as the deadliest tropical cyclone in Europe. Several tropical cyclone experts determined that it was "highly unlikely" that a storm like Arlene would occur in the next 100 years, making the hurricane a "once in a lifetime" event.
Retirement
On April 13, 2024, at the 46th session of the RA IV hurricane committee, the World Meteorological Organization retired the name Arlene from the naming list III due to the damages and deaths it caused, and it will not be used again for another hurricane. It will be replaced by Abby for the 2029 season. 2023 marked the first time that a request for a name retirement by a country not in the committee was accepted, with Spain and Portugal requesting the retirement of Arlene, under an exception granted due to "unusual and phenomenal circumstances".
Community content is available under
CC-BY-SA
unless otherwise noted.