Hurricane Isaias
Category 4 major hurricane (SSHWS/NWS)

Isaias at peak intensity in the Western Caribbean Sea

Formed
August 24, 2026
Dissipated
September 4, 2026
(Extratropical after September 1, 2026)
Highest winds
1-minute sustained:


155 mph (250 km/h)



Lowest pressure
912 mbar (hPa); 26.93 inHg
Fatalities
>20,000
(Second-deadliest Atlantic hurricane on record)
Damage
$110.7 million (2026 USD)
Part of the 2026 Atlantic hurricane season (Avdis)
Hurricane Isaias is the deadliest Atlantic hurricane in the modern era, causing over 20,000 fatalities in the countries it affected. It is infamous for nearly entirely destroying Havana, the capital city of Cuba. The poor gestion of the humanitarian crisis by the Cuban government eventually led to the 2026-27 Cuban unrest.
The eighth depression and named storm, fourth hurricane and third major of the active 2026 Atlantic hurricane season, Isaias formed off a tropical wave that formed off the coast of Africa on August 7. During its second day of existence, the storm underwent explosive intensification, going from a relatively weak Category 1 storm on August 24 to a high-end Category 4 on August 25. Rapid deepening also occured, with the lowest pressure being 912mbar.
On approach to Cuba, the storm exhibed an atypical triple eyewall feature. After its passage over Cuba, the storm started to stall out in the Gulf of Mexico, and weakened to a Category 3 storm. However, early on August 29, the storm restrengthened to a Category 4, and dashed towards the Gulf Coast of the United States while keeping an exceptional strength. The storm made its second and third landfalls in the Bay of Mobile, Alabama on August 30, causing massive storm surge and flooding in the Mobile metropolitan area. It then weakened over land, becoming extratropical on September 1, and recurving out to sea as an extratropical system affecting Florida, before dissipating over the Gulf of Mexico on September 4. Its landfall on Fort Morgan became the strongest on US mainland since Hanna six years earlier.
The devastation caused by Isaias along its track, as well as its humanitarian, social and political repercussions in Cuba and its extremely deadly and costly nature (in the midst of the 2020s financial crisis), established it as a memorable storm. The name was therefore retired during the 49th session of the World Meteorological Organzation's RA IV Hurricane Committee, in April of 2027, and thus will never be used for an Atlantic hurricane in the future. It was replaced with the name Idris for the 2032 season.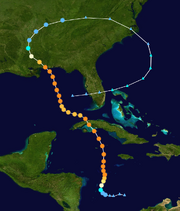 Community content is available under
CC-BY-SA
unless otherwise noted.