Hurricane Joseph
Category 5 hurricane
Formed
August 3
Dissipated
August 9
Highest winds
185 mph
(1-min sustained)
Lowest pressure
897 mb
Damages
$42.2 billion (2010 USD)
Fatalities
3820
Areas affected
Alaska Peninsula, Juneau
Part of the
2010 Alaska hurricane season
Hurricane Joseph was the strongest hurricane ever recorded in the Alaska basin. Joseph was a Category 5 hurricane with winds of 185 mph and a central pressure of 897mb. The storm was the 10th named storm, 4th hurricane and the 2nd major hurricane of the 2010-11 Alaska hurricane season. Joseph is also the most costliest and deadliest Alaskan hurricane, costing $42.2bn in damage and killing 3,281. It was the costliest hurricane of the season.
Meteorological history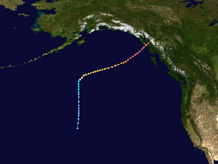 A large area of low pressure, the size of Japan, formed in the north Pacific Ocean.