Hurricane Josephine was one of the deadliest hurricanes in American History, and was also the first Category 2 hurricane to hit Tennessee. Hurricane Josephine surprised many meteorologist because it hit Nashville, Tennessee as a Category 2 hurricane because of the Brown Ocean Effect. [1]
Meteorological Synopsis
The National Hurricane Center spotted a tropical wave on land in South America giving it a 60% chance of development in 48 hours on July 8 at 12:00 AM. At 8:00 AM on July 10 the tropical wave turned into TD 15L. Then at 1:00 PM on July 11 it turned into tropical storm Josephine with torrential rains in Belize and Cuba causing flash flooding. Even a EF3 tornado destroyed houses in La Habana, Cuba. Then on July 12 at 7:30 AM it turned into a category 1 hurricane causing some damage to mobile homes and trees to uproot in Tampa Florida. Then at 12:30 PM it turned into a Category 2 hurricane causing moderate damage in Panama City Beach and flash flooding. Then at 10:30 AM on July 13 it turned into a Category 3 hurricane and made landfall at Panama City Beach causing extreme damage and flash flooding and also causing a 10 foot storm surge into the city causing mobile homes off their foundation and making palm trees crash into buildings. Then it weakened to a Category 2 hurricane in Alabama causing massive power outages and trees to be uprooted. Then it went over some saturated warm soils from a previous tornado outbreak in the area causing the hurricane to maintain its strength know as the Brown Ocean Effect. It maintained its Category 2 strength through Nashville Tennessee causing massive power outages and flash flooding worse than the 2010 floods and also causing homes to be destroyed and mobile homes to flatten. And glass to break on skyscrapers. It also caused a EF4 tornado in Nashville destroying and flattening homes in East Nashville and causing roof damage on skyscrapers in Downtown. And also the eye and eyewall moved over Nashville causing more damage into the billions. It then weakened to a category 1, but went over more saturated soils keeping it a category 1 as it went through Chicago causing massive flash flooding and making homes flatten to rubble. It maintained a category 1 because it went over the Grate Lakes where the water was warm. It then weakened to tropical storm when it reached Canada. Then it weakened to a tropical depression and reached Iceland when it dissipated in the Colder Atlantic Waters.
Gallery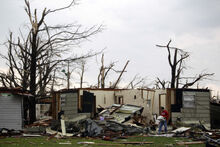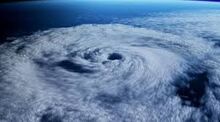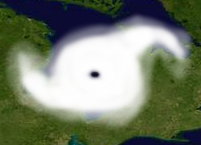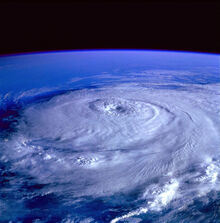 Cite error: <ref> tags exist, but no <references/> tag was found
Community content is available under
CC-BY-SA
unless otherwise noted.