Hurricane Julia was an extremely powerful and intense tropical cyclone that caused great devastation among the United States. Julia was the 10th named storm, 6th hurricane and 4th major hurricane of the 2022 hurricane season. Julia made landfall in North Carolina on September 25, killing 142 people and causing $6.38 billion USD in property damage.
Meteorological History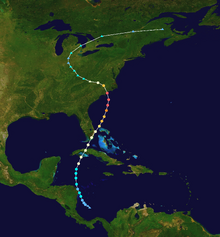 On September 4, 2022, a tropical wave from the coast of Cape Verde entered the open Atlantic Ocean.2 weeks later, an area of low pressure began to develop. In the next 12 hours, the area of low pressure developed into Tropical Depression Twelve. Twelve went through rapid intensification and in just a mere 6 hours, Twelve strengthened into Tropical Storm Julia. The next day, Julia weakened to a tropical depression before restrengthening to a tropical storm. On September 20, Julia became the 6th hurricane of the 2022 hurricane season as it started to make landfall in Cuba. About 11 people were killed in Cuba and 26 have been confirmed missing. The next day, Hurricane Julia made another landfall near Miami, Florida as a category 1 storm killing 14 of it's residents. On September 22, approximately at 22:00 UTC, Julia became a major category 3 storm. Julia went through another stage on September 24 intensifying to category 5 strength. At 18:00 UTC on the 24th of September, Julia reached peak intensity with maximum sustained winds of 165 mph and a central pressure of 929 mbar. On the 25th, Julia made it's third landfall near Brunswick, North Carolina as a category 5 storm, leaving about 142 people dead, and causing over $6 billion USD in damage. Due to strong wind shear, Julia weakened rather quickly and on September 30, Julia dissipated over Canada.
Retirement
On April 18, 2023, the WMO announced that the name Julia was retired from its naming lists, and was replaced by Jasmine for the 2028 Atlantic Hurricane Season.