Hurricane Julia
Category 5 Hurricane (SSHS)
Hurricane Julia at peak intensity approaching South Carolina
Formed
September 6, 2022
Dissipated
September 20, 2022
Highest winds
1-minute sustained:
180 mph (290 km/h)
Lowest pressure
902 mbar (hPa); 26.64 inHg
Fatalities
19(24)
Damage
$70 billion (2022 USD)
Areas affected
Leeward Islands, Puerto Rico, Hispaniola, Eastern United States
Part of the 2022 Atlantic Hurricane Season
Hurricane Julia was a powerful Cabo Verde type hurricane that impacted the Southeastern US. It was the most powerful hurricane ever to make landfall outside of Florida, and the third strongest in the Atlantic basin. It was the fifth costliest Atlantic hurricane on record,
causing $70 billion USD(2022) in damage. It was also the northernmost category 5 hurricane, reaching 32.65N at landfall. It was the 10th named storm of the hyperactive 2022 Atlantic Hurricane Season.
Meteorological History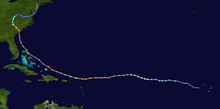 On September 4th, a tropical wave moved off the coast of Africa and into the Atlantic. due to favorable conditions, the NHC gave it an 80% chance of developing. after two days, on 11:00 UTC on September 6th, It developed into Tropical Depression 11. Twelve hours later, it strengthened into Tropical Storm Julia, the 10th named storm of the season. At first, it remained a weak tropical storm, but soon it entered very favorable conditions and rapidly intensified into a category 4 hurricane. On September 12th, it passed through cooler waters upwelled from Hurricane Hermine a week earlier, and completed an eyewall replacement cycle, and weakened to a high-end category 2 hurricane, but quickly strengthened back. On 11:00 UTC on September 15, It strengthened into a category 5 hurricane. It made landfall on Elbow Cay in the Bahamas 12 hours later, slightly weakening to a high-end category 4. Soon after, it restrengthened back into a category 5. It peaked 6 hours later with winds of 180 mph and a pressure of 902 mbars. It then weakened to have winds of 175 mph before making landfall on Folly Beach, SC. The winds almost completely destroyed the city, leaving over 1 million people across the Lowcountry without homes and destroying several important historical sights. It trekked slowly over the Carolinas, maintaining hurricane intensity due to the brown ocean effect. It finally weakened to a tropical storm over the Appalachian mountains in Kentucky. It then moved very slowly while turning over West Virginia, weakening to a tropical depression. It caused severe flooding, which all rushed into the narrow valleys, destroying entire communities. It finally became post-tropical on September 20th, after causing around 90 billion dollars in damage.
Preparations and Impact
Cabo Verde
The wave that eventually became Julia passed south of the Cabo Verde Islands, causing minimal flooding. 2 deaths were recorded there.
Leeward Islands & Puerto Rico
Julia was forecast to pass a safe distance north of the Leeward Islands, so minimal preparations were made. It passed closer that expected, but still far enough away to cause minimal impacts. It caused minimal impact, with estimated damages at $80 million, but it was hard to calculate with the damages from Hurricane Hermine a week before. It caused 2 deaths in Puerto Rico and 1 in the US Virgin Islands. There was also one death reported after Julia but believed to had happened during Hermine.
Hispaniola
Julia passed far north of Hispaniola. The only affects it caused were minimal rain and storm surge.
The Bahamas
As Julia was forecast to pass through the Bahamas as a major hurricane, extensive preparations were made. The Islands were still battered by Dorian and Isaias in the years prior. Most of the northern islands, including New Providence and Grand Bahama were evacuated. As Julia passed through the islands, it caused severe destruction, especially to Grand Bahama that had been battered by Hurricane Dorian two years prior. Julia caused around 5 billion dollars of Damage in the Bahamas and 18 deaths.
The US
Florida
Julia caused minimal damage in Florida, but got minor rain and winds. One person died from rip currents caused by the storm.
Georgia
As Julia approached, Governor Brian Kemp issued a mandatory evacuation for the coastal areas of Georgia. The northern coastal regions, including Savannah and Brunswick, got tropical storm force winds. A there was one single report of hurricane force winds, on the northern tip of Tybee Island. Overall, Julia caused about $50 million in damages, although it thankfully caused no deaths.
South Carolina
5 days before landfall, a mandatory evacuation was issued for the entire coastal plain of South Carolina. As Julia strengthened, a voluntary evacuation was also issued for central South Carolina. As Julia strengthened into a category 5, a state of emergency was issued for Charleston, Berkeley, Dorchester, and Colleton Counties. Julia made landfall on Folly Island, destroying the town of Folly Beach and even altering the shape of the island. Most of the Charleston Metropolitan area received major hurricane winds, with downtown Charleston getting category 4 winds and almost getting completely destroyed. Inland South Carolina also received major damage, as Julia did not weaken into a tropical storm until reaching the Blue Ridge Mountains. Overall, Julia caused $50 billion dollars in damage, and 11 deaths, making it the costliest storm in South Carolina history.
North Carolina
3 days before landfall, a tropical storm watch was put in place for southeastern North Carolina. As Julia approached, it was upgraded to a warning. There were no reports of tropical storm force sustained winds, but gusts were reported as far north as Wilmington. As Julia tracked inland whilst maintaining a strong intensity, an unusual inland tropical storm warning was put in effect for southwestern North Carolina, mainly in the Appalachians. There, Major flash flooding occurred, especially in narrow mountain valleys. Julia caused $5 billion dollars in damage there, and 11 deaths.
Virginia
As Julia first made landfall, impact was minimal, with only the southernmost portions of Virginia receiving rain. However, after Julia dissipated over the Appalachian mountains of Kentucky, its remnants curved back over western Virginia, where it caused minor flash flooding. 1 person died from a car wreck in Roanoke. It caused around $2 billion in damages there.
Tennesee
Since Tennessee is far inland, minimal preparations were made in advance of Julia. However, this proved to be a mistake, as Julia caused around 3 billion USD in damage there and 7 deaths. Julia started to slow over the Appalachian mountains of Tennessee, causing severe flooding.
Kentucky
Similar to Tennessee, little preparations were made in Kentucky, however Julia caused severe flooding there as it tracked across the eastern part of the state. 600 million dollars in damage and 2 deaths were recorded there.
Delmarva
Maryland and Delaware received drizzle and gusty winds as Julia made landfall, and again as its remnants curved back around towards the coast. No deaths and minimal damage was reported.
Northeastern US
Parts of the northeastern United States, namely Pennsylvania, New Jersey, and New York, received minor impacts from Julia. It caused 1 death in New York City.