This article is under construction.
It may not function as expected. Check the
discussion
for info about its current state. See
articles under construction
for other incomplete articles.
Hurricane Marsha was the costliest hurricane in the Atlanic basin at the time, and the deadliest and strongest storm of the 1962 Atlantic hurricane season, bringing catastrophic damage to the Texas-Mexican border during late September. Marsha originated from a tropical wave on September 22, which also helped to form Hurricane Lois. Marsha then began to quickly intensify, becoming a hurricane the next day. Marsha continued to intensify, becoming a Category 5 hurricane and then attaining peak winds of 185 mph (295 km/h) and minimum barometric pressure of 897 mbar (26.49 inHg) on September 26, just before making a historic landfall east of Matamoros, Mexico. Marsha gradually weakened, still causing catastrophic damage before weakening below major hurricane status on September 27. Continuing to weaken, Marsha degenerated into a remnant low on September 28 near Aguascalientes, before entering the Pacific Ocean that day. Marsha's remnants then contributed to the formation of a tropical storm during early October.
During its early life, Marsha's precursor, alongside Lois, brought severe flooding and damage to the Bahamas, which left at least 15 dead and left $78.4 million in damage. Marsha brought rainfall and high winds to Cuba and southern Florida, which left minimal damage to the Key West and left 2 dead. Flash flooding was also reported in Havana, Cuba, which killed 5 people in total. High wind gusts were also reported in the Yucatán Peninsula, which toppled many trees along the northern coast and left minimal damage as far south as Campeche, Mexico, totaling at $6.1 million.
Damage associated with Marsha at its strongest was catastrophic, as the storm dropped torrential rain which totaled up to at least 20 in (508 mm) in some places near the coast of the Gulf of Mexico. Storm surge totaled at around 50 feet, which left areas as far north as Corpus Christi inundated for weeks, causing severe damage. About 70% of Padre Island was swept away by erosion during Marsha, with the entirety of South Padre Island being inundated permanently. Around 70% of the infrastructure in both Texas and northeastern Mexico were either severely damage or completely destroyed, leaving a total of $2.84 billion (1962 USD) in damage. In the wake of Marsha, both Texas and the northern half of Mexico was put under a state of emergency which lasted months for the latter. Marsha became one of the deadliest Atlantic hurricanes on record in Mexico, killing around 485 people and left another 86 missing in Matamoros and surrounding areas.
Total rainfall reached up to 26.85 in (681.99 mm) in areas around Reynosa, Mexico. Rivers breached its banks in Monterry, raising floodwaters to about 4.7 ft (1.43 m) which left severe damage and killed at least 30 people. 80% of crops grown along the coast of Texas was destroyed due to extreme flooding and high winds, which resulted in a famine during the early 1960s. Towns near Reynosa and Matamoros were described as a "ghost town", such as McAllen, Texas and Brownsville which resulted in the latter to be abandoned by 1968. As Marsha's remnants entered the Pacific, high surf was reported along the coast of Mazatlán and as far south as Puerto Vallarta, which left 4 dead due to rip currents and caused minimal damage. Marsha was the deadliest hurricane in the Atlantic since Janet, killing around 975 people in total. At the end of the season, the name Marsha was retired by the United States Weather Bureau and has not been used since.
Meteorological synopsis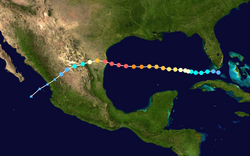 During mid-to-late September, a weak tropical wave moved off the coast of Africa and began to gradually organize as it moved west-northwest. Moving north of the Caribbean, the wave then split into two waves, with the northern half moving towards the East Coast and developing into Hurricane Lois. The southern and more stronger wave moved over the Bahamas where it continued to produce thunderstorms and form a low pressure area on September 20. The low then began slowing down in movement as it entered the Gulf of Mexico on September 22. Simultaneously, at around 00:00 UTC (7:00 p.m. CDT), ship reports confirmed that the low had developed a tight circulation, surrounded by sufficient convection, amidst sea surface temperatures of 84 °F (28 °C) and low wind shear, indicating that a tropical depression had developed just south of Key Largo. Despite the favorable environment, the storm barely intensified due to land interaction with Florida and remained a tropical depression for another six hours. A reconnaissance flight into the system occurred later that same day and recorded winds of 45 kt (50 mph) alongside a barometric pressure reading of 997 hPa. at 12:00 UTC (8:00 p.m. CDT). The storm was therefore upgraded to a tropical storm an hour later, and was given the name Marsha just south of Key West.
A subtropical ridge situated over the central United States kept the storm moving westward while it began to intensify gradually. During the early-to-mid hours of September 23, satellite imagery confirmed the formation of an eye and upgraded Marsha to a hurricane with winds of 65 kt (75 mph) with a barometric pressure of 990 hPa at around 8:00 p.m. CDT. As an anticyclone moved over the hurricane, Marsha began to intensify more quickly as its eye began to shrink while the storm grew bigger in size. On September 24 at around 4:00 a.m. CDT, a Hurricane Hunters mission recorded winds of 90 kt (105 mph) and an atmospheric pressure of 974 hPa, indicated that Marsha had become a Category 2 hurricane. Marsha then continued its gradual intensification as it moved south of the ridge towards the border, after it was originally expected to strike Texas. A ship report in the eyewall of Marsha reported winds of 100 kt (115 mph) later that same day. This prompted the United States Weather Bureau to upgrade Marsha to a major hurricane at 1:00 p.m. CDT. Twelve hours later on September 25, Marsha had intensified into a Category 4 hurricane as it continued to move westward, evident by a reconnaissance mission that flew into the hurricane earlier at around 7:00 p.m. CDT.
Marsha then began to quickly intensify as the anticyclone moved over it once again, reaching Category 5 status on September 26 at around 7:00 p.m. CDT, while moving more northwestward towards Matamoros. Continuing to intensify, Marsha attained its peak intensity with winds of 185 mph (295 km/h) with a minimum pressure of 897 hPa at around 12:00 UTC (7:00 a.m. CDT) before making landfall just east of Matamoros at around 12:00 p.m. CDT. Moving slowly, Marsha weakened steadily as it then moved southwest, falling below hurricane status near Monterry at around 7:00 a.m. CDT. Marsha then weakened to a tropical depression the next day as it moved closer to the Pacific Ocean, before degenerating into a remnant low near Fresnillo, Mexico. Later that day, Marsha's remnants entered the Pacific basin where it finally dissipated on September 29. Its mid-level circulation would then contribute to the formation of Tropical Storm Emily.
Preparations