Hurricane Omar
Category 5 major hurricane (SSHWS/NWS)

Omar at peak intensity, off the coast of Florida on October 16.

Formed
October 10, 2020
Dissipated
October 21, 2020
(Extratropical after October 20)
Highest winds
1-minute sustained:


165 mph (270 km/h)



Lowest pressure
911 mbar (hPa); 26.9 inHg
Fatalities
2,294 total
Damage
$325 billion (2020 USD)
Areas affected
Trinidad, Cuba, Haiti, Bahamas, Bermuda, Northeastern United States, Atlantic Canada
Part of the 2020 Atlantic hurricane season
Hurricane Omar was the strongest hurricane of the 2020 Atlantic hurricane season, and was the worst storm to hit the northeastern coast of the United states since 1938. it was a category 5 hurricane that affected major regions of the Eastern United States throughout it's run. Omar originated from a tropical wave located in the main development region, and tracked westwards. Omar made landfall as a major hurricane in Trinidad on October 11. The storm then entered the Caribbean, eventually weakening into a tropical storm early on October 14. However, the storm experienced rapid intensification, and became a category 5 approximately 48 hours later, early on October 16. the storm then peaked with 165 mph winds early on October 17. After curving from a northeast motion to a northwesterly one, the storm eventually made its final landfall near New York City on October 20, as a category 4 hurricane, causing unprecedented devastation. The storm rapidly weakened and became a remnant low late on October 20, then tracked through Atlantic Canada, and officially dissipated on October 21.
Meteorological History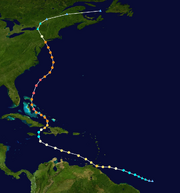 Community content is available under
CC-BY-SA
unless otherwise noted.