Hurricane Vernon
Category 4 major hurricane (SSHWS/NWS)

Vernon at its initial peak intensity, west of Jamaica.

Formed
October 20, 2073
Dissipated
November 15, 2073
Highest winds
1-minute sustained:


145 mph (230 km/h)



Lowest pressure
929 mbar (hPa); 27.43 inHg
Fatalities
174 total
Damage
$65.04 billion (2073 USD)
Areas affected
Bermuda, Dominican Republic, Puerto Rico, Jamaica, Cuba, Southern United States, Atlantic Canada
Hurricane Vernon was a long-lived, destructive tropical cyclone that caused major flooding across the Southeastern United States. The system was strong category 4. The storm originated from a non-tropical low just west of Bermuda, that eventually became a Subtropical Storm. the system looped around in the Atlantic before turning southwestwards and intensifying into a hurricane. The storm tracked through the Caribbean sea, gradually intensifying into a Major Hurricane, causing flooding in multiple countries. The storm briefly weakened as it moved into the Gulf of Mexico, and started to re-intensify. The storm then stalled south of Louisiana, Mississippi, and Alabama, and gradually weakened into a low-end hurricane, and eventually made landfall in the Florida as a Category 1 hurricane on November 8. After moving inland, the storm became post-tropical, but moved into the atlantic and regenerated on November 12 as a Subtropical cyclone. The storm moved through cool waters of the Atlantic, and officially dissipated on November 15 just south of Newfoundland.
Meteorological History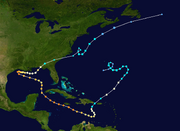 [WIP] On October 18, a non-tropical low was located south of Bermuda, and showed signs of eventually acquiring subtropical characteristics.
Preparations
Dominican Republic
Jamaica
Texas
Louisiana, Mississippi, and Alabama
Florida
Impact & Aftermath
The storm became one of the Gulf state's worst flooding disasters of the 21st century. Reports of 40"+ of rain were reported in Louisiana and Mississippi. In the wake of the storm, approximately 2.6 million people were asked to evacuate the Gulf coast.
The storm caused 174 fatalities across 4 countries, most of them being in the United States.
Hurricane Vernon caused severe damages across multiple countries, with a majority coming from the flooding caused in the Southeastern United States, With total damages estimated at over $65 billion dollars.
Retirement
In April of 2074, the World Meteorological Organization retired the name Vernon from the rotating Atlantic naming list due to the mass damages and flooding the storm had caused, it was replaced with Vencel for the 2079 Atlantic hurricane season.
Community content is available under
CC-BY-SA
unless otherwise noted.