Tropical Storm Gonzalo
Tropical storm (SSHWS/NWS)

Gonzalo at peak intensity, south of Louisiana.

Formed
August 25, 2020
Dissipated
August 31, 2020
(Extratropical after August 30)
Highest winds
1-minute sustained:


70 mph (110 km/h)



Lowest pressure
995 mbar (hPa); 29.38 inHg
Fatalities
66 direct, 13 indirect
Damage
$21.45 billion (2020 USD)
Areas affected
Honduras, Cuba, Mexico, Southern United States
Part of the 2020 Atlantic hurricane season
Tropical Storm Gonzalo was a system of the 2020 Atlantic hurricane season, and also became one of Louisiana's worst disasters of all time. originating from a wave that formed in the Caribbean, Gonzalo caused major flooding across multiple gulf states, but mainly in Louisiana.
Meteorological History
WIP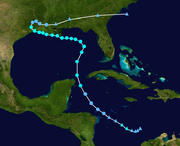 Community content is available under
CC-BY-SA
unless otherwise noted.