Hello HHW Visitor! Welcome to the user page of Bobnekaro, a former long-time bureaucrat of Hypothetical Hurricanes Wiki! 
Tropical storm (SSHWS)
Duration
September 8, 2015 – Currently Active
Peak intensity
70 mph (110 km/h) (1-min)  933 mbar (hPa)
About Me
My name is Bobnekaro. I am a former bureaucrat of Hypothetical Hurricanes Wiki! I served as part of the HHW administration for over four years, from October 2015 to January 2020. I was a bureaucrat from April 2016 to January 2020, aside from a brief period in September 2016. I still visit the wiki on occasion, but am no longer very active.
My HHW History
Happy Birthday HHW. Let's celebrate with the birth of a potentially epic storm.

Bobnekaro, September 28, 2016
Before I joined this wiki, my hurricane interest was mostly seasonal, and I paid little attention to the tropics outside of peak season. On September 7, 2015, knowing that the 2015 season was likely going to be yet another inactive season, I searched "2016 Atlantic hurricane season" on Google out of curousity about what the upcoming season will be like. I stumbled upon
this page
, which led me to this wiki. I realized that as soon as I discovered this place, I would love it. I then joined this wiki the next day, September 8, to make my hypothetical seasons. I didn't think I would last more than one season at first. But I eventually became very active on the wiki. Despite this, I didn't come in chat until late October. I always loved tracking hurricanes, but I was extremely dissatisfied with the Atlantic Hurricane Seasons of 2013-15. They were just boring. I'm an Atlantic guy; the Atlantic is the only basin I really follow. My favorite storm ever is Hurricane Matthew of 2016, with Hurricane Alex a close second. I am obsessed with hurricanes and weather in general (but I'm not very interested in tornadoes and tornado outbreaks, so I won't have much to say on them). I also have created my own wikis,
Hypothetical Sports Wiki
,
Hypothetical Diseases Wiki
,
Hypothetical Airplanes Wiki
and the
Hypothetical TV Shows and Movies Wiki.
I also invented the concepts of the Antihurricane and Usercane. I am also a proud member of Team La Niña!
Userboxes
| | |
| --- | --- |
| | Bobnekaro is a former bureaucrat of Hypothetical Hurricanes Wiki. This means he/she was incredibly intense, like a category 5 hurricane. |
| | |
| --- | --- |
| 21 | This user is 21 years old |
| | |
| --- | --- |
| LA NINA | Bobnekaro is a member of Team La Niña. |
| | |
| --- | --- |
| | Bobnekaro likes snow and cold weather, and will get triggered when he does not get as much snow as he wants. |
| | |
| --- | --- |
| JULY | Bobnekaro has a July bias, and thinks the month is very unfavorable in the Atlantic basin due to Saharan Air Layer and strong trade winds. |
Activeness
My activity scale is based on the El Niño Southern Oscillation (ENSO). La Niña means I am active while El Niño means I am not.
Bobnekaro
talk • blog • contribs
Schedule: Occasional appearances between 10:00 a.m. and 12:00 a.m. on most days.
Former Bureaucrat
Weak La Niña
Current rating: Weak La Niña (can change)
Activity type
Amount of Time
Current Rating

Very Strong El Niño

DONE. No chance of returning. I'm in this stage if I am gone FOREVER with nearly no chance of ever returning. This is basically "ABSOLUTE RETIREMENT."

No

Strong El Niño

Interest has decreased, or I am way too busy off-wiki to contribute here. In this stage I am mostly retired, although there is still a chance I may return to being a very active user at some point.

No

Moderate El Niño
In this stage, I am semi-retired from the wiki, real-life events prevent me from being active, or I am taking a long break from the wiki. I will stop in from time to time at this stage, but I will not be very active at all.
No
Weak El Niño
Uh oh! El Nino has formed! At this stage, I make edits every few weeks, and am nearing semi-retirement. This stage may happen during the Atlantic offseason. I still edit from time to time, but my activity is fairly limited. However, I will be available if you need me.
No
Neutral
ENSO is neutral! In this stage, I come on from time to time about once a week or so. At this stage I'm still semi-active, but I won't be on every day. However, at this rating, there is a good chance I will become fully active again at some point.
No
Weak La Niña
Real-life events, such as school, limit me from being fully active on this wiki. However, I am still very interested, and edit several times a week, appearing on average about 5-7 days each week. In this stage, I'm either starting to become active or starting to go inactive.
Yes

Moderate La Niña

.

At this rating, I am fairly active, editing most days. I'm on Discord quite frequently, but not all the time. On average with this rating I edit every day, but may not make many seasons or new pages. However, I am still very interested in the wiki, and am not close to going inactive.

.

No

.

Strong La Niña

.

This is probably my most common rating. In this rating, I'm on for an average of 3-5 hours a day, every day without missing any days. On days where I have college classes, I'm always on Discord when I don't have classes. However, college or other events limit me from being extremely active.

.

No

.

Very Strong La Niña

.

A fairly uncommon rating, except over the summer. In this stage, I am on every day for over 5 hours a day. "Low wind shear" allows me to be extremely active! My hurricane interest is as strong as it will ever be. I make a lot of seasons, and om on Discord nearly all day. I am most commonly in this stage on Summer Break when I am not on vacation, on Christmas Break, or Spring Break.

.

No

Modoki El Niño
During this stage, I am only going to have limited access to HHW. I am most likely on vacation, family is visiting or I am suffering through an internet outage. In most cases I will be able to check HHW some, but I won't be able to spend a lot of time on HHW if I'm in a Modoki El Niño.
No
Bob Nekaro Weather Center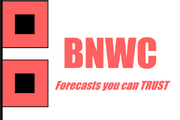 I have my own weather center called the Bob Nekaro Weather Center. It forecasts Atlantic hurricanes, Arctic cyclones as well as HHW usercanes.
My Own Individual Storms
Note: All of my seasons and storms so far are Atlantic, except for the 2016 Pacific Hurricane Season!
2019 Atlantic hurricane season gallery
A gallery of the storms of the previous Atlantic hurricane season, the 2019 Atlantic hurricane season.
Polls
What month will Arthur form in during 2020?
Live Seasons
I currently have no active live seasons at the moment.
My Own Seasons
Storms I have Experienced
I survived...
2003 - Hurricane Isabel
2004 - Tropical Storm Bonnie
2004 - Tropical Storm Charley (I wasn't there when it happened, but it hit me)
2005 - Hurricane Ophelia
2006 - Tropical Storm Alberto
2007 - Tropical Storm Barry (Post-Tropical)
2008 - Tropical Storm Hanna
2011 - Hurricane Irene
2011 - Tropical Storm Lee (Remnants)
2012 - Tropical Storm Beryl
2013 - Tropical Storm Andrea
2014 - Hurricane Arthur
2015 - Tropical Storm Ana
2016 - Tropical Storm Bonnie
2016 - Tropical Storm Hermine
2016 - Tropical Storm Julia (Remnants)
2016 - Hurricane Matthew
2017 - Potential Tropical Cyclone Ten
2017 - Remnants of Hurricane Harvey
2017 - Tropical Storm Nate
2018 - Subtropical Storm Alberto
2018 - Hurricane Florence
2018 - Tropical Storm Michael
2019 - Hurricane Dorian
2019 - Remnants of Tropical Storm Nestor
Community content is available under
CC-BY-SA
unless otherwise noted.