Hurricane Lol
Hyper Mini Black Hole (NHC)
 (NHC)
Duration
January 1 – NEVER!!
Peak intensity
INF mph (INF km/h) (1-min)  -INF mbar (hPa)
(right) Me at peak intensity sucking up all stars in the universe.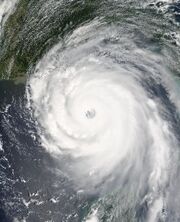 Welcome to my profile! I am LollipopWut, a former administrator! Everyday, if not busy, I can answer any question you ask me!
Userboxes
| | |
| --- | --- |
| Found it! Oh yeah! | This user has found PuffleXTREME's secret page! |
| | |
| --- | --- |
| Wait? There is nothing here! | This user has many erasicane articles |
| | |
| --- | --- |
| | LollipopWut was an administrator of Hypothetical Hurricanes Wiki. This means he/she is formerly an intense hurricane, like a category 4 hurricane. |
| | |
| --- | --- |
| LA NIÑA | LollipopWut is a member of Team La Niña. |
Seasons
Finished seasons:
2050 Atlantic hurricane season (LollipopWut' version): The very first season I made.
2109 Atlantic Hurricane Season Douglas/Lollipop: A season collab with Douglas.
2113 Atlantic hurricane season: The second season i made. It contains 15 depressions, 14 storms, 8 hurricanes and 4 major hurricanes.
2058 Atlantic hurricane season (LollipopWut's version): Another season by me. Specifically, the third one. It's a very inactive season.
8169 Atlantic hurricane season: A very unusual season with 9 storms, 7 huricanes and 5 major hurricanes. Unknowingly suffered same fate as the season below.
1352 Atlantic hurricane season:A very unrealistic and inactive hurricane season with only 1 tropical storm, 2 hurricanes and 1 major. Finished early as I want this to be done already after a year.
Current seasons I am working on:
2050 Atlantic hurricane season (Remake): A remake of my very first season (Look for it in the Finished season section)
Halted seasons:
None at the moment.
Cancelled seasons:
5675 Atlantic hurricane season: A season i was originally planned to finish. Cancelled for unknown reasons.
Alan/Puffle: He made me a chat moderator. Why should i not put him on my list?
SM: If he is my friend, then I am his friend.
Layten: The one who promoted me to junior admin.
I will add more as I acknowledge more relations with other users.
LollipopWut
talk • blog • contribs
Schedule: School days (most weekdays): Between 4:00 PM and 5:00 PM to 12:00 PM (PDT) (non-constant)
Weekends/holidays: 8:00 AM to 10:00 PM (PDT) (non-constant)
----

Status Scale:
Very Active (Lime): I edit and comment multiple times a day and actively help everywhere around the wiki. I would also be available anytime I don't have school, am on a family trip/vacation, or am sleeping.
Active (Green): I edit and comment every day or at least a few times a week, but I won't be available at all times. This could be because I'm busy on other sites too or some other factor like school events or family issues prevents me from being "Very Active". This is only given if I have no plans for retirement or am not losing interest yet.
Endangered (Yellow): Real life events or being on other sites will prohibit me from really editing this wiki that much, and I would only edit anywhere from just a tad bit more inactive than the "active" stage to only about once every couple months at most inactive. On this scale, I don't really pay attention to the wiki as much as I did when I first joined because of either losing interest or too much stuff off-wiki. This could eventually turn into a semi-retirement, retirement, or even completely dead if off-wiki becomes more and more busy, which is why I'm "endangered".
Semi-retired (Dark orange): I am literally getting very inactive on this wiki, editing anywhere from almost as active as the "active" stage to editing only once every few months. This rating is only given if I am losing interest on this wiki or am getting too busy off-wiki, and not if recovering from the "retired" stage. A "semi-retired" rating given if I meet qualifications for the "active" stage is just because I am losing interest but I can't quite let go of this wiki yet, or I don't have much other sites I'm active on even though I'm losing interest. On the other hand, if I edit only once every few months and have this rating, I'm losing interest and I am also extremely busy off wiki. If that's the case, the rating could directly drop to "completely dead" soon. Semi-retirement is similar to "endangered" except current trends would very likely lead to retirement or completely dead, while "endangered" has a likely chance of recovering.
Retired (Dark red): I've lost all interest in this wiki or am way too busy off-wiki, but I do still edit rarely, about once a month or less often (once a week or less often for this wiki). This is similar to "completely dead" except I still occasionally visit, but I still visit because it's hard to let go completely. At this point, it could change to "completely dead" very soon, but there's also a really tiny chance I could recover and be directly upgraded to "Endangered" or even "Active". That's very unlikely though (only <1% chance), so just assume if I have this rating I'm basically done with this wiki.
Completely Gone (Black): I am absolutely done with this wiki and don't visit any more. I don't edit anymore, so if I have this rating, I may never return. This is also called "absolute retirement".

Status:



Retired
Community content is available under
CC-BY-SA
unless otherwise noted.