Chat Moderator
Sandy156 is a chat moderator of the Hypothetical Hurricanes Wiki. They oversee the chat and ensure all users adhere to the chat guidelines. If you need their help, send them a message wall or visit their administration page.
Hello <insert name here>! My name is Sandy, a chat moderator here in HHW, and I'm 13 years old. I'm a nice guy, well sort of. I like tracking hurricanes and all sorts of stuff since I first encountered them in 2014. I live in Southern Arizona, where I get hit by monsoons and trust me, it's hot there with temps up to 100F+ in the summer.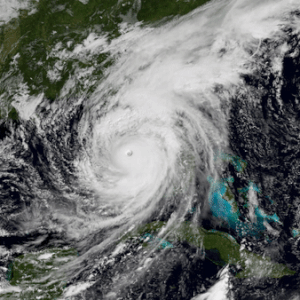 I am also an introvert, not talking and interacting that much in real life and spending my time with my iPad Mini and my laptop all day (which is why I wear glasses and trust me, my vision is bad). I do have a speech impediment, which makes me a shy person because I sometimes can't talk properly. I interact with my classmates as best as I can, and I brought myself some friends along the way despite me being an introvert. And yes, I'm mostly Asian, which means that I get straight A's most of the time and I'm a nerd at math. My religion is Catholic, so it's rare that I curse in chat and I try never to curse in real life.
I visited this wiki back in 2015-2016, when I saw the pages that Bob had created, the userpages of StrawberryMaster and Odile, and all that kind of stuff. I also have a Wikipedia account, which I use to edit tropical cyclone pages and reverting vandalism in Wikipedia, how sad. My Wikipedia account is right here: Sandy14156
Arizona is one of the only two states not to observe Daylight Savings Time. Therefore, the clock remains at UTC-7 or Mountain Standard Time all year round. Current time in Arizona: 23:55 (MST)
Pages I created!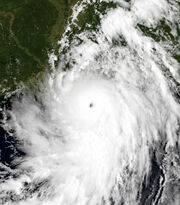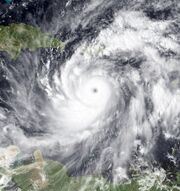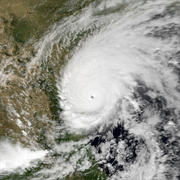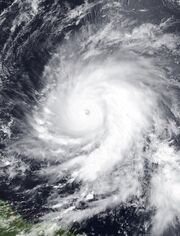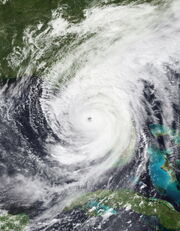 Hypothetical hurricane seasons
Right here: List of seasons made by Sandy156
Individual storm articles
Sandantic/Sandific seasons
Miscellaneous
Current status
Credit to Bob for making this original infobox.
Current status:
Category 3 hurricane
| Category | Information | Current Rating |
| --- | --- | --- |
| Dissipated | DONE. No chance of returning. I'm in this stage if I am gone FOREVER with nearly no chance of ever returning. I have dissipated. This is basically "ABSOLUTE RETIREMENT." | No |
| Remnant low | Interest has decreased, or I am way too busy off-wiki to contribute here. In this stage I am mostly retired, although there is still a chance I may return to being a very active user and regenerating at some point. | No |
| Tropical Depression | In this stage, I am semi-retired from the wiki, real-life events prevent me from being active, or I am taking a long break from the wiki. I will stop in from time to time at this stage, but I will not be very active at all. | No |
| Tropical Storm | Uh oh! I have weakened below hurricane status! At this stage, I make edits every few weeks, and am nearing semi-retirement. This stage may happen during the Atlantic offseason. I still edit from time to time, but my activity is fairly limited. | No |
| Category 1 hurricane | In this category, I come on from time to time about once a week or so. At this stage I'm still semi-active, but I won't be on every day. However, at this rating, there is a good chance I will become fully active again at some point. | No |
| Category 2 hurricane | Real-life events, such as school, limit me from being fully active on this wiki. However, I am still very interested, and edit several times a week, appearing on average about 5-7 days each week. In this stage, I'm either starting to become active or starting to go inactive. | No |
| Category 3 hurricane | At this category, I am fairly active, editing most days. I'm on Discord quite frequently, but not all the time. On average with this rating I edit every day, but may not make many seasons or new pages. However, I am still very interested in the wiki, and am not close to going inactive. | Yes |
| Category 4 hurricane | In this category, I'm on for an average of 3-5 hours a day, every day without missing any days. I'm also quite active on Discord too. | No |
| Category 5 hurricane | In this category, I am on every day for over 5 hours a day. My hurricane interest is as strong as it will ever be. I will edit a lot, and be on Discord nearly all day. I am most commonly in this stage on Summer Break when I am not on vacation, on Christmas Break, or Spring or Fall Break. | No |
| Subtropical Cyclone | During this stage, I am only going to have limited access to HHW. I am most likely on vacation, family is visiting or I am suffering through an internet outage. In most cases I will be able to check HHW for a bit, but I won't be able to spend a lot of time on HHW if I'm a Subtropical Cyclone. | No |
Milestones
Edits
1st edit - January 16, 2019
10th edit - January 20, 2019
50th edit - January 21, 2019
100th edit - January 23, 2019
250th edit - January 28, 2019
500th edit - February 4, 2019
1000th edit - March 1, 2019
2000th edit - July 14, 2019
Roles
Autopatrolled User - June 11, 2019
Chat Moderator - September 14, 2019
Hurricanes I experienced
In Southern Arizona, I get hit by remnant lows that were once Pacific hurricanes. Here are the storms I experienced since 2014.
Odile (2014) - This was the strongest storm I ever experienced, it even canceled school for a day! Well, since it was more than 4 years ago, I can't clearly remember it but I remember getting on the bus after school and then water started pouring down, causing flooding and moderate gusts.
Newton (2016) - its remnants hit me from the north causing usual flooding and heavy rain.
Sergio (2018) - was in San Diego when it hit, heavy rain poured the city causing moderate flooding.
Snow/Hailstorms
October 2018 - was a hailstorm that brought surprising hail to my area
February 22, 2019 - a surprise storm that brought snow to my area (I played with the snow btw). Brought about 2 in of snow.
Usercane
Main article: Usercane Sandy
Category 1 usercane (NUC)

As of
December 7, 2019
Location
Western tropical Atlantic
Intensity
80 mph, 984 mbar
Movement
WNW at 4 mpd
On January 16, a tropical wave originated off Africa and onto warm waters. Abruptly, it rapidly organized starting on January 20 and on January 24, it strengthened into Tropical Userpression Four. A couple days later, it intensified into a tropical userstorm, and was named Sandy. During the months of February and March, it entered an area of low to moderate wind shear, causing the system to slowly intensify. The userstorm then entered an area of low to no wind shear and warmer waters in late May and early June, which contributed to the strengthening of the storm. It finally intensified into a severe tropical userstorm on June 11, the third one of the season. It strengthened gradually over time, further becoming a Category 1 usercane on September 14, the second one of the season.
Current storm information
As of December 7, Usercane Sandy is located in the Western tropical Atlantic. Maximum 1-minute sustained winds are at 80 mph (130 km/h). The minimum central barometric pressure is 984 mbar (hPa) and the system is moving west-northwest at 4 miles per day.
Friends
More to expand later!
Userboxes
| | |
| --- | --- |
| | Sandy156 is a chat moderator of Hypothetical Hurricanes Wiki, which means that they are like a Category 1 hurricane. |
| | |
| --- | --- |
| 13 | This user is thirteen years old. |
| | |
| --- | --- |
| 247k | This user made the 247,000 edit on this wiki. |
| | |
| --- | --- |
| Elsa bias | This user has a name bias against Elsa. He also hates that name because of the movie Frozen and wonders why they'd picked that name to replace Erika instead of another E name. |
| | |
| --- | --- |
| | This user also has a name bias for Genevieve. He loves that name since Genevieve of 2014 was his first ever hurricane he had ever tracked and his most favorite hurricane of 2014. |
| | |
| --- | --- |
| Sam bias | This user also has a name bias for Sam. He has a best friend in real life named Sam. |
All of the names' storms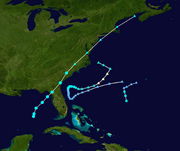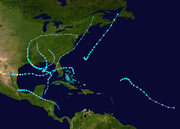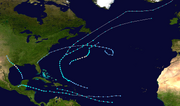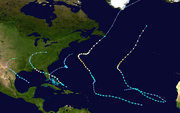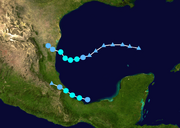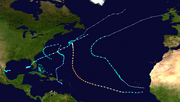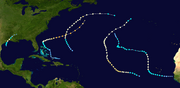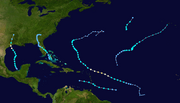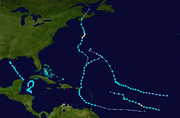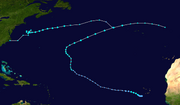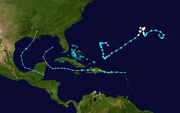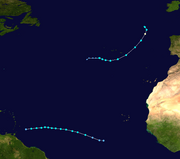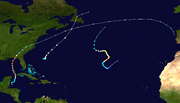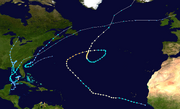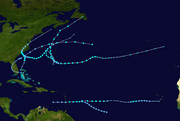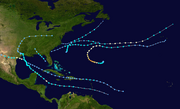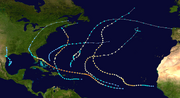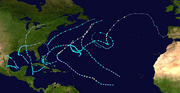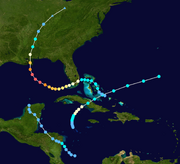 Polls
How many number of storms will the 2019 Atlantic hurricane season see?
Community content is available under
CC-BY-SA
unless otherwise noted.